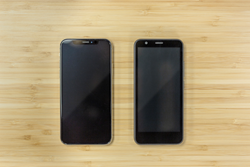 "The evidence is clear that when it comes to technology and social media, too much too early is too dangerous."
SALT LAKE CITY (PRWEB) May 25, 2019
Gabb Wireless today announced the upcoming launch of the nation's first entirely safe mobile phone and mobile phone network, a platform designed to provide cellular-safety for kids and peace of mind for parents.
"The evidence is clear that when it comes to technology and social media, too much too early is too dangerous," said Gabb Founder and CEO Stephen Dalby. "Our mission is to provide children and families with a mobile experience that is completely safe, one that eliminates the risks of gaming addiction, pornography exposure, sexting, cyberbullying, and the anxiety and depression that stem from social media dependence."
"In the future, we will look back at our experiment of giving smartphones to kids way too young and ask, 'What were we thinking?'," said Collin Kartchner, a nationally recognized thought leader and founder of Save the Kids, a burgeoning movement to save teens from social media's potential destruction of self-esteem and mental health. "I applaud Gabb's vision and commitment to providing families with a completely safe option for introducing technology to their children in a reasonable way."
Gabb unveiled its first "Gabb Phone" and introduced its safe wireless network through an Indiegogo campaign on May 15, reaching its goal of $50,000 in pre-orders in the first four days of a 30-day effort. To date, more than 800 people have participated in the campaign.
"It gives me so much peace of mind as a mother and educator knowing my kids and the countless kids I'm connected to have Gabb Wireless as an option," said one pre-order customer, Sheena East, who is a teacher in Mississippi. "I've started telling everyone I know about Gabb Wireless, and I don't plan on stopping!"
As the first step in a national rollout that includes regulatory preparations with the Federal Communications Commission, users in Utah will go live by July 31. The company is targeting Labor Day for coast-to-coast availability.
All Gabb phones will operate on the nationwide Gabb Wireless Network, powered by America's premier 4G LTE provider. Gabb offers two usage plans that empower parents to choose the mobile functionality available to their children.
A Gabb Basic Plan ($19.99/month) is designed for ages 8–14 and provides unlimited talk and text but blocks MMS such that inappropriate images and videos cannot be sent or received. A Gabb+ Plan ($24.99/month) is designed for teenagers over the age of 14 whose parents wish to add email, MMS, group texting and Bluetooth capabilities. Both plans are pay-as-you-go, with no long-term contracts required.
None of the phones approved for the Gabb Wireless Network are equipped with an Internet browser and none connect to an app store. All Gabb phones come with calendar, calculator, alarm and FM radio apps built into the operating system.
Gabb's first phone is a Quad Core 1.1 Hz Android device manufactured by ZTE that includes a 5-megapixel back camera and 2-megapixel front camera. A second phone, manufactured by NUU Mobile and similar in functionality to the ZTE phone, will be available for purchase later in 2019. Other major manufacturers have been invited to join the Gabb network and will be adding devices within 12 months.
GABB WIRELESS
Established in 2018 and headquartered in Salt Lake City, Gabb Wireless enables parents to provide children with mobile phones without worrying about untethered access to the Internet, pop-up pornography, social media pressure, online bullying, academic distraction and cell phone addiction. To learn more about Gabb, visit http://www.gabbwireless.com.