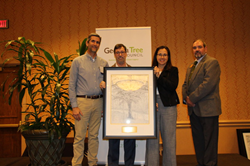 ATLANTA (PRWEB) December 22, 2020
Gables Residential, a leader in the management and development of multifamily apartment communities, was recognized by Georgia Tree Council and received the Outstanding New Development Grand Award. The award recognizes Gables' commitment to sustainability and the company's endeavor to minimize the impact to the tree canopy and surrounding environment. In addition, it highlights Gables' efforts for thoughtful reuse by recovering, storing, and preserving the trees that were removed from one of their newest developments in Atlanta, Georgia, Gables Vinings Village.
Gables Residential used the salvaged timber of trees at the Gables Vinings Village site and repurposed them throughout the community. Gables engaged Atlanta furniture maker Madera Arts and Eutree to help craft flooring, paneling, furniture, and other architectural wood products from the salvaged timber of the trees for use in Gables Vinings Village.
While the removal of some trees was required to make way for Gables Vinings Village, the company partnered with Atlanta expert arborist, David Dechant at Arbor Guard, to minimize the impact to the tree canopy and surrounding environment. Both groups worked together to recover, store, and preserve the trees from this project. Each of the trees were selected for a specific purpose. The selection criteria is a core value of the project team that allows for intentional design of the product.
John Akin, Chief Investment Officer for Gables Residential stated, "Our development and construction teams evaluate any sustainability opportunities for our projects. Sustainable development is a Gables hallmark. We are honored to be recognized with this award and look forward to continuing our green footprint."
About Gables Residential
Gables Residential is an award-winning, vertically integrated, real estate company specializing in the development, construction, ownership, acquisition, financing, and management of multifamily and mixed-use communities. Gables Residential owns, develops, and manages communities in high-growth U.S. markets such as Atlanta, Austin, Boston, Dallas, Denver, Houston, South Florida, Southern California and metropolitan Washington, D.C. Gables also provides third party management services in the New York, Baltimore, Frederick, Tampa, Phoenix, Charlotte, Central and North Florida markets.
Gables manages approximately 29,000 apartment homes and approximately 275,000 square feet of retail space and has received national recognition for excellence in development, construction, management, sales, marketing, training, and benefits. These achievements reflect the impact of Gables' experienced and dedicated team members, its superior knowledge of the markets served, and its expertise in development and management. For additional information about the company and its real estate portfolio and services, visit http://www.gables.com.