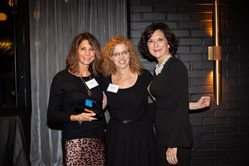 ATLANTA (PRWEB) October 18, 2019
Gables Residential has been named the 2019 Multi-Housing News (MHN) Property Management Company of the Year, as announced at the Multi-Housing News Excellence Awards ceremonies that took place earlier this month in New York City. Gables was bestowed the highest award level- Platinum, the only one in this category.
The MHN Excellence Awards, now in its 13th year, offers multiple awards to the multifamily housing industry across 20 categories. The award nominations are submitted and then evaluated based on feedback from a panel of distinguished senior industry professionals. Awards are handed out for Silver, Gold and Platinum levels, with Platinum being the highest honor. MHN very rarely recognizes Platinum level award winners. This year, Gables had the honor.
Attending the event were the Vice Presidents of Operations for Gables, and accepting the award was Cristina Sullivan, Executive Vice President/COO and Donna Summers, Senior Vice President of Operations. "We are proud and humbled to have received this award from MHN. There are so many well-established in addition to new management companies in our industry today. To be selected amongst them is truly reflective of the efforts that our entire company puts forth every day to achieve excellence in what we do and how we service our residents," shared Cris Sullivan, COO.
For more information visit https://www.multihousingnews.com/post/mhn-announces-the-excellence-award-winners/.
About Gables Residential
Gables Residential is an award-winning, vertically integrated, real estate company and privately held REIT specializing in the development, construction, ownership, acquisition, financing and management of multifamily and mixed-use communities. Gables Residential owns, develops and manages communities in high-growth U.S. markets including Atlanta, Austin, Boston, Dallas, Denver, Houston, South Florida, Southern California and metropolitan Washington, D.C. Gables also provides third party management services in the New York, Baltimore, Frederick, Tampa, Phoenix, Seattle, Charlotte, Central and North Florida markets.
Gables manages approximately 30,000 apartment homes and approximately 225,000 square feet of retail space and has received national recognition for excellence in development, construction, management, sales, marketing, learning and development, benefits and corporate accommodations. These achievements reflect the impact of our experienced and dedicated team members, our superior knowledge of the markets served, and our expertise in development and management.