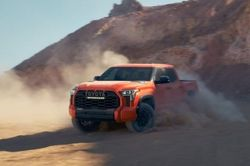 ENFIELD, Conn. (PRWEB) February 12, 2023
Interested buyers around Enfield, CT can get their hands on the full-size pickup truck. The 2023 Toyota Tundra boasts a bold and commanding exterior design, with a spacious and comfortable interior equipped with the latest technology and convenience features. Under the hood, the Tundra is powered by a robust engine that provides ample power and acceleration, making it the perfect vehicle for towing and hauling heavy loads.
Gale Toyota, a dealership in Enfield, CT, has a selection of vehicles for its customers. They also have a friendly sales team to assist potential buyers in finding the perfect vehicle that meets their needs and budget.
Shoppers can visit the Gale Toyota and test drive the all-new 2023 Toyota Tundra and experience the power and performance of this exceptional pickup truck.
In addition to offering the 2023 Toyota Tundra, the dealership also provides exceptional customer service, including financing options and regular maintenance services to keep the vehicles running smoothly for years to come.
Customers who want to know more about the 2023 Toyota Tundra are invited to stop by the dealership located at 50 Palomba Drive in Enfield, Connecticut, or visit their website at https://www.galetoyota.com/. If customers have any inquiries, they can reach out to the dealership at 860-269-3608.