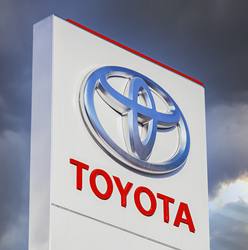 ENFIELD, Conn. (PRWEB) November 30, 2021
Gale Toyota in Enfield, Connecticut, has a unique offer for its customers. They can now order vehicles from the dealership that are not available in its inventory. Gale Toyota will search other dealer inventories in the market and explore other options, such as auctions, to find the vehicle that the customer is looking for. Therefore, customers have no need to look into another dealership's website if they cannot find their desired vehicle in Gale Toyota's inventory.
In order to simplify the ordering process, customers need to fill out a form. There, they will have to give the dealership relevant personal information, such as name, email ID, phone number, etc. Furthermore, customers are required to mention in the form the type of vehicle that they are looking for. The year, make, model and trim level of the vehicle has to be mentioned in the form. Once the customer goes through the necessary steps, the dealership will procure the vehicle for the customer.
Hence, while customers have the option to buy a new or a used vehicle from Gale Toyota's inventory, they can easily order a vehicle from the dealership that is unavailable at the time.
For more information about this offer, all interested parties are requested to visit Gale Toyota at 50 Palomba Drive, Enfield, CT, or call 860-269-3608. They can also visit the dealership at their convenience to learn more about the offer.