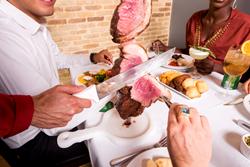 Enjoy a Full Churrasco experience including A Meat Parade of 14 different cuts of meat!
CHANDLER, Ariz. (PRWEB) December 05, 2018
BON VOYAGE
Now open to the public, Galeto Brazilian Steakhouse takes guests on a culinary voyage, highlighting the bold and authentic flavors of Brazil. Helmed by founder, owner and Goias, Brazil native, Eli Nascimento, the Chandler location marks the initial expansion of the Oakland-born brand, with additional locations in the works.
The Galeto experience encompasses both the Brazilian Churrasco and the Gourmet Bar. The Churrasco features a cooking technique originated south of Brazil in the early 1800s. Fired up by the restaurant's resident Gauchos, the Churrasco boasts a parade of 14 rotisserie meats—including beef, lamb, pork, chicken and sausage, perfectly seasoned and carved tableside.
Alongside the impressive selection of meats, guests can indulge in the Gourmet Bar featuring a wide array of more than 54 signature dishes and artisan appetizers.
MOUTHWATERING MEATS AND MORE
Galeto serves up an expansive menu where the premium Brazilian cuts are the star of the show. With the Churrasco experience, guests will enjoy top quality meat selections including Picanha, arguably the most authentic Brazilian steak, the premium cut of the top-sirloin captures its robust and tender natural flavor; Alcatra, a signature top sirloin cut served thinly; Costela, slow cooked authentic beef ribs and more.
In addition to the beef options, guests will be presented with chicken, lamb and pork selections inclusive of Frango, chicken wrapped in bacon and served crispy; Linguica, traditional Brazilian pork sausage and more.
The dining destination also offers delectable appetizer options such as Pao-de-Queijo, a genuine cheese bread consisting of yucca flower and parmesan cheese; an expansive Gourmet Bar featuring a selection of both hot and cold dishes and regional recipes and a sweet variety of desserts including authentic favorites such as Brazilian Pudim, a specialty flan topped with caramel.
SOUTH AMERICAN SIPS
Galeto's well-rounded beverage program highlights the refreshing and crisp flavors of the Latin American country with an assortment of regional wines, premium draft beers and craft cocktails. Favorites include the Galeto Caipirinha—the national cocktail of Brazil made with "cachaca," sugar and lime. Catering to the whole family, the restaurant serves up numerous non-alcoholic options as well, including Guarana, a signature Brazilian soft drink created from the Amazon basin native fruit.
Galeto Brazilian Steakhouse Chandler, AZ
For more information, please visit http://www.galeto.com