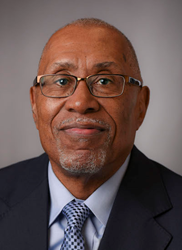 Dr. Anderson is one of the most respected leaders in our community and beyond. He brings an incomparable wealth of experience and expertise that will be invaluable to our community. We are grateful for his continued service to Gallaudet and look forward to working with him.
WASHINGTON (PRWEB) July 29, 2020
Dr. Glenn B. Anderson has been named chair of the Gallaudet University Board of Trustees. In accepting this two-year appointment, Anderson rejoins the Board on which he served from 1989 to 2005 and chaired from 1994 to 2005.
In announcing Anderson's selection, Board vice chair Claire Bugen said that he "is one of the most respected leaders in our community and beyond. Dr. Anderson brings an incomparable wealth of experience and expertise that will be invaluable to our community. We are grateful for his continued service to Gallaudet and look forward to working with him."
Gallaudet University president Roberta J. Cordano said: "We are pleased that Dr. Anderson is returning to the Board of Trustees as its chair at this pivotal time in our 156-year history. Last spring, we faced head-on the global pandemic with strong leadership from our entire community. This summer, Gallaudet joined our nation and our world in a reckoning with systemic racism and redoubling our commitment by putting into place a multi-faceted anti-racism plan. As Chair of the Board, Dr. Anderson will lead us well with his vast expertise, wisdom and experience."
Glenn B. Anderson grew up in Chicago and began college as the only deaf student on a campus of 12,000 students at Northern Illinois University (NIU). There, he encountered bias and discrimination as an African American deaf student. The next semester, he transferred to what was then known as Gallaudet College. Anderson excelled at Gallaudet, both academically and athletically. He majored in psychology and became involved in campus life. He joined the Student Body Government, wrote for The Buff and Blue student newspaper, and became a star on the basketball and track teams, earning him a place in the Gallaudet University Athletics Hall of Fame.
After graduating from Gallaudet, Anderson earned his master's degree from the University of Arizona and his doctorate from New York University, both in rehabilitation counseling. He was the first known African American deaf person to earn a doctoral degree.
After serving for two years as a vocational rehabilitation counselor in Detroit, he joined the Deafness Research and Training Center at New York University as coordinator of the referral and counseling center, where he provided community service and advocacy to deaf residents in New York City. He then joined LaGuardia Community College of the City University of New York, where he helped establish a continuing education program to benefit deaf adults interested in returning to school and/or obtaining college degrees.
In 1982, Anderson began a 26-year career as director of training at the University of Arkansas's Rehabilitation Research and Training Center for Persons Who Are Deaf or Hard of Hearing in Little Rock. He was also a professor in the University's Department of Rehabilitation, Human Resources, and Communication Disorders, and coordinator of the master's degree program in rehabilitation counseling with persons who are deaf or hard of hearing.
Since 2008, Anderson has been an associate professor in the University of Arkansas at Little Rock's interpreter education program within the Department of Counseling, Rehabilitation, and Adult Education.
Anderson was appointed by U.S. President George W. Bush as a member of the National Council of Disability from 2002 to 2005. He also served as chair of the State Rehabilitation Council for Arkansas Rehabilitation Services and as a member of the editorial review boards for the American Annals of the Deaf and the Journal of Interpretation. He served on the board of directors of the National Black Deaf Advocates, and as newsletter editor for the Arkansas Association of the Deaf.
Anderson has written numerous articles for professional journals and books. He wrote and published a book and DVD, Still I Rise: The Enduring Legacy of Black Deaf Arkansans Before and After Integration, and he is among the 200 African Americans included in Vernon Farmer and Evelyn Shephard-Wynn's four-volume book series, Voices of Historical and Contemporary Black American Pioneers, published in 2012.
The contributions made by Anderson over the past four decades have earned him many recognitions, including the Alice Cogswell Award for valuable service on behalf of deaf people from the Gallaudet University Alumni Association, the Lifetime Achievement Award and the Linwood Smith Humanitarian Award of the National Black Deaf Advocates, induction into the American Athletic Association of the Deaf Hall of Fame and the National Hall of Fame for Persons with Disabilities, and the Frederick C. Schreiber Leadership Award of the National Association of the Deaf. In 2017, Gallaudet University awarded him an honorary Doctor of Humane Letters.
Anderson and his wife, Karen Adeeb-Anderson, reside in Little Rock, Arkansas. They have two adult children and two grandchildren.
Gallaudet University, federally chartered in 1864, is a bilingual, diverse, multicultural institution of higher education that ensures the intellectual and professional advancement of deaf and hard of hearing individuals through American Sign Language and English. The university's Board of Trustees has 21 members, including three members of the United States Congress.
Media Contacts:
The Durkin Agency
Alana Cowan
alanacowan5@gmail.com
Gallaudet University
Robert Weinstock
robert.weinstock@gallaudet.edu