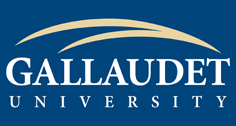 WASHINGTON (PRWEB) September 14, 2020
Today Gallaudet University was recognized as the No. 3 "Best Value School" among national universities in the prominent 2021 U.S. News & World Report Best Colleges rankings. This follows a No. 18 ranking in the same category last year. The No. 3 honor places Gallaudet among some of America's most well-known universities and highest among all Washington, D.C. schools.
"We are honored with this year's rankings by U.S. News & World Report," said Roberta J. Cordano, President of Gallaudet University. "For more than 156 years, Gallaudet has delivered quality education to deaf, hard of hearing, and deafblind students from all over the world. We are especially proud of our ability to do so while delivering significant value to our students. With the current challenges we face as a society, it is more important than ever to ensure that quality education is not only accessible to students of all backgrounds, but also allows for the most direct and open path possible for career and lifelong success."
The U.S. News & World Report Best Value Schools ranking examines academic quality and cost after accounting for total expenses and financial aid. Among the factors contributing to its ranking, Gallaudet had a favorable quality-to-price ratio – the school's overall score in the Best Colleges rankings divided by its net cost for the 2019-2020 academic year. Other factors included 89 percent of students receiving need-based aid and a 72 percent average discount from total costs.
Well after submitting its 2019-2020 data to U.S. News, Gallaudet University made a significant move to add further value by reducing its Fall 2020 semester tuition by 15 percent for all full-time and part-time students. The single-semester discount applied to both U.S. and international students and also included students in the university's English Language Institute.
In addition to the Best Value Schools ranking, Gallaudet jumped 55 places to a tie at No. 124 in the overall rankings of national universities. The university also improved scores in several other U.S. News metrics. Gallaudet was ranked No. 24 in Top Performers on Social Mobility (up from No. 45 last year), which measures how well schools graduate student recipients of Pell Grants. The institution also was ranked No. 21 in Economic Diversity among national universities, which measures the number of undergraduate students receiving Pell Grants. For more information on the national rankings please visit U.S. News & World Report Best Colleges and please visit Gallaudet University rankings for more details on Gallaudet's 2021 rankings.
Gallaudet University, federally chartered in 1864, is a bilingual, diverse, multicultural institution of higher education that ensures the intellectual and professional advancement of deaf, hard of hearing and deafblind individuals through American Sign Language and English. The university enrolls over 1,300 students in more than 40 undergraduate majors, as well as many graduate programs at the master's and doctoral level. It also conducts much research in a variety of fields, including brain imaging, educational neuroscience, education, linguistics, psychology, Deaf history and culture, and Black Deaf history and culture.
Media Contacts:
The Durkin Agency
Alana Cowan
alanacowan5@gmail.com
Gallaudet University
Robert Weinstock
robert.weinstock@gallaudet.edu