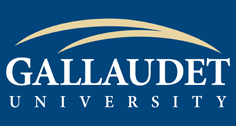 I am confident that the Gallaudet community will once again demonstrate great resiliency during these unprecedented times. -- Gallaudet University President Roberta J. Cordano
WASHINGTON (PRWEB) July 30, 2020
Gallaudet University will deliver all of its fall instruction remotely. The school announced today several planned reopening initiatives to enhance the student experience while continuing to ensure the safety of its community during the global pandemic. Gallaudet is the world's premier university for deaf and hard of hearing students.
With ongoing guidance from the District of Columbia and other public health authorities, Gallaudet plans to implement several key initiatives for its virtual fall semester which begins August 31 and ends December 18. These reopening initiatives focus on four primary areas: health, safety and well-being; the student experience; academic and technology support; and the continued delivery of Gallaudet's promise of a superior and uniquely bilingual (American Sign Language and English) experience.
"I am so proud of and grateful for how our students, their families and our entire Gallaudet community united this spring to face the new world order that Covid-19 so abruptly and unexpectedly delivered to all of us," said Roberta J. Cordano, president of Gallaudet University. "I am confident that the Gallaudet community will once again demonstrate great resiliency during these unprecedented times. I also want to thank the faculty and staff for their unwavering commitment to ensure the health and safety of our community while upholding our academic excellence. Now, as we look ahead and move forward, I remain very optimistic about our future. I cannot wait to virtually welcome back our students in the coming weeks."
Gallaudet University currently plans for the following key reopening initiatives for its fully remote fall semester. The university will update these plans as needed or as required by the District of Columbia public health mandates and local and national developments.
15% Tuition Discount for All Students - Recognizing both the loss of the on-campus experience for students and the impact the global pandemic may have had on many students and their families, Gallaudet has reduced its fall semester tuition by 15 percent for all full-time and part-time students. This applies to both U.S. and international students, and also includes students in the English Language Institute.
Faculty and Student Training for Innovation and Sign Language-vibrant Virtual Learning - Gallaudet University is the only university in the world with a bilingual (American Sign Language and English) mission. As part of its virtual reopening, Gallaudet has provided customized training to all faculty and students for unique learning opportunities, and has created an enhanced remote instruction model uniquely designed that provides sign language-vibrant learning experiences for its students.
Up to 100 Students in Need to Reside On Campus - Gallaudet will give on-campus residence priority to DeafBlind and other students who have no or unsafe housing options, and who need campus-based support for their virtual learning.
Student Health and Anti-Racism Ambassadors - Gallaudet plans to have a small group of student ambassadors support both the University's health and safety response to the global pandemic and its ongoing, multi-faceted anti-racism commitment. These peer ambassadors will first work virtually; once health and safety conditions permit, they will continue their work on campus. They will serve a key role in creating a healthy, safe, and equitable Gallaudet campus environment and in preparing additional students to return to campus when it is safe to do so.
Technology Support - Gallaudet Technology Services will continue to provide technology support to students in need with loaner laptops, wifi routers and webcams.
Health and Safety Protocols - Following the District of Columbia and Centers for Disease Control and Prevention reopening and university-specific guidance, Gallaudet University is implementing a multitude of health and safety protocols for a limited number of students, faculty, and staff who will be on campus this fall. These include the provision and required use of face coverings, including clear masks; appropriate social distancing, hand-washing and other hygiene measures; personal responsibility and self-monitoring; restrictions of shared and public spaces to limit density; no large events on campus; single occupancy rooms for all on-campus students; quarantine procedures for anyone in need; COVID-19 training for faculty, staff and students; use and cleaning protocols for shared restrooms; safe food service options; and mandatory COVID-19 testing prior to campus arrival.
Academic Resources - All Gallaudet University support services will continue this fall, including Student Success tutoring, academic advising, career services, disability support services, and counseling and psychological services.
The Laurent Clerc National Deaf Education Center (Clerc Center) - Like Gallaudet, the Clerc Center will be starting the school year virtually, providing online instruction to PK-12 students through Kendall Demonstration Elementary School and Model Secondary School for the Deaf. Enhancements to student learning and engagement include professional development opportunities for teachers and staff, incorporating new tools and systems to support bilingual instruction at all grade levels, and offerings for social engagement for students to support maintaining connections with friends and to ensure access to regular language and communication opportunities.
Athletics - In line with decisions by the North Eastern Athletic Conference and the Eastern Collegiate Football Conference, Gallaudet sports will not resume this fall.
For additional information and updates on the university's reopening plans, please visit Gallaudet University.
Media Contacts:
The Durkin Agency
Alana Cowan
alanacowan5@gmail.com
Gallaudet University
Robert Weinstock
robert.weinstock@gallaudet.edu