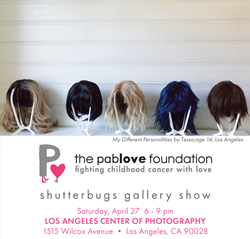 We urge the Los Angeles community to come out to meet these young local artists and support their work. I am continuously blown away by how thoughtful, fun-loving, and inspiring each of our Shutterbugs are, and I know you will be too.
LOS ANGELES (PRWEB) April 09, 2019
Young photographers are sharing the stories of what it means to be teens and young adults with cancer in a powerful new gallery show in Hollywood.
Picture a Cure, an exhibition curated by youth living with cancer opens on April 27th at The Los Angeles Center of Photography. The show features the photos captured by 16 artists ranging in age from 14 to 26 years old, who are reflecting on the ways that their cancer diagnosis has impacted their lives. The show is the culmination of a 10-week advanced course offered by The Pablove Foundation, a national pediatric cancer nonprofit that teaches the art of photography to children and teens living with cancer in nine cities across the United States. Pablove Shutterbugs, the foundation's signature arts program, helps kids with cancer develop their creative voice and find an expressive outlet through curriculum-based weekly classes taught by professional photographers.
But there's more behind this exhibit than just their raw experiences, these photographers are using their art for a cause -- to give back to other kids like them, who are battling cancer. The class is selling their prints to raise funds for pediatric cancer research. The money they raise as a class will be contributed to a Powered by Pablove childhood cancer research grant.
"It is an honor and a privilege to watch our Advanced Class students use their photography skills as a means to tell their personal stories while leveraging their photos to raise awareness and advocate for childhood cancer research. Their collections offer a perspective into not only life with cancer, but the essence of life in general. We urge the Los Angeles community to come out to meet these young local artists and support their work! I am continuously blown away by how thoughtful, fun-loving, and inspiring each of our Shutterbugs are, and I know you will be too. I have learned so much from our students and find it so rewarding to see them find hope, a sense of power and self-confidence through their camera," says Anna Lisa Caraveo-Flores, Pablove Shutterbugs Program Director.
The artists have arranged their photos alongside accompanying written statements, to shape a powerful narrative that touches upon the themes of love, family, faith and resilience.
The goal is to share the experience, sensations and emotions that come with cancer and through their art increase awareness and funding for childhood cancer, which is the leading cause of death by disease for people under the age of 18 yet received less than four cents of every federal cancer research dollar.
"As someone with first-hand experience, I can give people a view through the lenses of pediatric cancer. Through my photos I can show the good and also the bad that comes with cancer--- such as a photo of my aunts' cooking that makes you feel related and comfort, or a photo of my formula pump, which shows the result of my bone marrow transplant. Photography has impacted my life because it has given me something to look forward to everyday. Through Pablove's class, I have gained a new passion for something. I enjoy photography because it represents the many ways you can express yourself and be creative," says Pablove Shutterbug Edwin, age 17, from Los Angeles.
All prints are available for purchase at the show and online, with 100% of proceeds directly funding Pablove's childhood cancer research program. Through their art, the Pablove Shutterbugs students are giving the brightest minds in pediatric cancer new opportunities to test their innovative approaches to safer treatments and cures. The Pablove Shutterbugs Grant recipient will be announced in September, during Childhood Cancer Awareness Month.
There is no cost to attend this all-ages community celebration, which is open to the public. The show will also include music, refreshments and a speaking panel.
Those who are not in the Los Angeles area to attend the Picture a Cure gallery show can still join the Pablove Shutterbugs movement and fuel their quest for a cure. All fine art prints are available for purchase at The Pablove Foundation's online print shop, pabloveprints.org. Supporters can also make a donation at pablove.org. All gifts are tax-deductible and can be securely processed online at pablove.org/donate.
The Pablove Foundation is proudly partnered with Sony, The National Endowment for the Arts, The Hollywood Foreign Press Association, City of Los Angeles Department of Cultural Affairs, The Huntington Library and Los Angeles Center of Photography.
More more information about the Picture a Cure Pablove Shutterbugs gallery show and to RSVP please visit: pablove.org/pictureacure