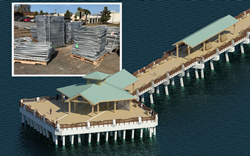 The new pier is expected to open in the Spring of 2023.
HARRISBURG, N.C. (PRWEB) January 21, 2021
The Charleston County (S.C.) Park and Recreation Commission (CCPRC) is replacing the Edwin S. Taylor Folly Beach Fishing Pier, a major attraction in the area. The current Folly Beach Pier, which opened in 1995, is deteriorating due to marine borers, such as "ship worms", and wear from the ocean environment.
The CCPRC will replace the existing pier with a new structure that will look very similar, but will be constructed using reinforced concrete pilings, beams and substructure instead of wood, to extend its expected life. The reinforcing steel that will be inside the concrete is being rust-proofed by Galvan Industries in Harrisburg, N.C.
Rebar galvanized to ASTM A767 Class 1 by Galvan will resist rust for decades. This is important. Rusted rebar can exert tremendous tensile stress from the inside on reinforced concrete which causes spalling or cracking. Hot dip galvanized zinc coatings form an impervious metallic zinc barrier around the steel to isolate the steel surface from the concrete, preventing damage and giving the structure a longer service life.
Aside from the concrete elements, the new pier will be very reminiscent of the old pier. It will continue to offer everything visitors love about the existing pier including public restrooms and retail facilities. Traditional wooden decking, benches and a large shade structure over the pier head are included in the design. Two locations along the pier walkway will be slightly widened to allow additional fishing opportunities and more efficient pedestrian access. The new pier is expected to open in the Spring of 2023.
"We are very happy and proud to be chosen as the galvanizer for such a high profile project," Said Galvan's President Laurens Willard. "I expect our grandchildren to find the new pier standing strong many, many years from now."
About Galvan Industries, Inc.
Since 1958, Galvan Industries has provided the ultimate in corrosion control to steel fabricators and manufacturers. The first hot-dip galvanizing operation in the Carolinas, the company has grown to become the largest capacity contract galvanizer in the Southeast.
For details, or to place an order, call Galvan Industries at (704) 455-5102, Fax (704) 455-5215; e-mail: sales@galvan-ize.com.
-end-
Image Caption: Rendering of new Folly Beach Pier with inset showing some of the galvanized reinforcing steel to be used in the concrete structure.