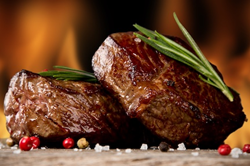 Certificates can be sent to a home, office or favorite charity.
HARRISBURG, N.C. (PRWEB) April 16, 2020
Galvan's 13th Annual Spring Fling Steak Promotion for U.S. electrical wholesalers launched April 1, 2020 and will continue through June 30. During the promotional period, each wholesaler issuing a "single destination" purchase order for immediate shipment valued at $2,700 or more will earn a gift certificate for four delicious six-ounce filet mignons from Omaha Steaks.
It pays to order in increments of $6,000. Orders worth $6,000 or more earn three certificates, $12,000 orders earn six certificates, and so on. That adds up to a lot of beef!
Customers need only fax or e-mail their purchase order to their Galvan sales representative and mail a photocopy of the purchase order along with a pre-addressed, stamped envelope to:
Galvan Industries, Inc.
Attn: Spring Fling
P.O. Box 369 Harrisburg, NC 28075-0369
Certificates can be sent to a home, office or favorite charity – whatever address is printed on the pre-addressed envelope. For more information on Galvan's Spring Fling steak promotion, call 704-455-5102; fax: 704-455-5215; email: sales@galvanelectrical.com.
About Galvan Industries, Inc.
For more than 60 years, Galvan Industries has been a trusted supplier of electrical grounding products used residential, commercial and industrial applications, including construction, cable TV, lightning protection, power generation, telecommunications and OEM markets.
Galvan products are stocked at strategic sites around the country to assure fast deliveries. To learn more, or to place an order, contact Galvan Industries at (704) 455-5102, fax (704) 455-5215; e-mail sales@galvan-ize.com or visit Galvan on the Web at http://www.galvanelectrical.com.