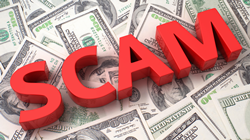 Once your money has been deposited into a bogus account, the scammers don't just take the money and run. They wait to see what happens with the bet itself, to see if they can scam you further
TAMPA, Fla. (PRWEB) March 15, 2023
The first round of March Madness is set to take place Thursday. This year, college hoop fans across the country will be taking advantage of legalized betting options in over 30 states, including newcomers Kansas, Maine, and Massachusetts. But, with this surge of virtual wagers, transaction dispute experts at Chargebacks911 warn of the potential for betting and gaming fraud as scammers look to take advantage of emotional gamblers throughout the collegiate tournament.
Earlier this year, the American Gaming Association (AGA) reported that the sports betting market set a new revenue record in 2022 with $7.5 billion—an astounding 72.7 percent increase from 2021. As more and more states open their doors to online gambling, the issue of scammers targeting sports bettors is rising drastically.
"As a consumer looking for the warning signs of fraud, sports betting can be a much trickier landscape to navigate, especially if a scammer has their system down pat," said Chargebacks911 Founder Monica Eaton. "With popular sporting events like March Madness, many Americans who are now eligible to place bets want in on the action. But, without due diligence, they may be setting themselves up to lose big."
Many advertised betting services offer attractive discounts, introductory bonuses, and other "risk-free" deals that can seem too good to be true. Sadly, Eaton explains, these websites or apps may belong to fraudsters attempting to con bettors out of their money. Depositing funds into seemingly legitimate accounts is just the beginning of a potentially long fraudulent journey.
"Once your money has been deposited into a bogus account, the scammers don't just take the money and run. They wait to see what happens with the bet itself, to see if they can scam you further," warned Eaton. "If you lose, you believe your money was lost to the bet, not a scam, which might mean you'll place another wager. If you win and try to withdraw your earnings, some scammers will deny the withdrawal for 'security reasons' and prompt you to send a picture of your driver's license for verification. They might ask for your bank account details so they can 'make a deposit,' which is another fraud tactic to get your bank information. All of these are tricks to get you to provide as much sensitive information as possible."
According to Eaton, because much of sports betting is based on emotion, gamblers may be less cautious about giving fraudsters sensitive information, especially if there is potential to receive a "big payout."
Eaton offered a few steps gamblers can take to ensure they are placing their bets with a reputable sports book. These include:

Research the sportsbook before signing up. Check reviews from other customers, ratings and overall reputation.
Check the sportsbook's licensing and regulation information. This should be clearly stated on their website.
Make sure the sportsbook offers secure banking options. Payment methods used by the vendor need to be reputable and secure.
Read the terms and conditions. Take the time to read the terms and conditions of any sportsbook before signing up.
Ask for help from a trusted third-party. Consult with a third-party, such as an online gambling advisor or industry expert, to ensure the sportsbook is legitimate.
Be wary of enticing ads. Disregard pop-up ads, spam emails or SMS messages offering discounts or bonuses on bets, as this is a common tactic of scammers. Even if the message looks like it comes from a reputable sports book, this could be a fraudster who went to greater lengths to make their scam look legitimate.
If you believe you've been scammed placing an online sports bet, contact your issuing bank right away and see what options are available to recover your money.
To learn more information about Chargebacks911, visit: https://chargebacks911.com.
About Chargebacks911
Chargebacks911® drives profitability for online merchants by decreasing payment disputes and recovering revenue lost to chargeback fraud. Through a proprietary suite of software and service offerings, the company delivers transparent, end-to-end chargeback management solutions backed by the industry's only performance-based ROI guarantee.