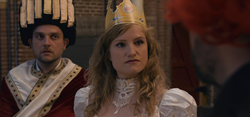 The only things getting grilled here are the burgers, as Game of Thrones and all its tropes are put through a fast food filter in this joyously silly and very funny film
AMSTERDAM (PRWEB) May 30, 2019
Many people will try to create the 'next Game of Thrones,' but who can afford to try? At $15 million per episode, Game of Thrones was the most expensive TV show ever made. The challenge for big media companies will be to duplicate the audience engagement while holding down costs with more tie-ins and product placement.
Boom Chicago has created the first Game of Thrones sequel, Game of Burger Thrones, full of very subtle product placement. See if you can discover the sponsors.
Watch it here: Game of Burger Thrones
Writer Simon Lukacs and director Simon Feilder of Boom Chicago in Amsterdam have created a Game of Thrones parody that will delight fans of the show.
In Game of Burger Thrones, George RR Martin's epic fantasy series chronicling the fight for the Iron Throne is re-imagined as a product placement fueled battle between the Seven Fast Food Kingdoms.
Replacing House Stark, House Lannister and House Targaryen are the likes of The House of Subway and The Hut of Pizza. And at the forefront of the action is The House of Burger King and its matriarch, Queen Whopper, caught between the conflicting counsel of Lord French Fries and Lord Ronald.
And unlike the unfortunate people of King's Landing, the only things getting grilled here are the burgers, as Game of Thrones and all its tropes are put through a fast food filter in this joyously silly film.
The cast includes Boom Chicago actors Tamar Broadbent (as seen on Comedy Central heard on BBC Radio 4's The Now Show and Sketchtopia), director Simon Feilder (as seen on BBC, ITV and Channel 4 in the UK) and writer Simon Lukacs (as seen on BBC3).
Game of Burger Thrones was created for Boom Chicago's latest live show, The Future is Here... And it is Slightly Annoying, co-created by Boom Chicago's Artistic Director Andrew Moskos (who co-produced the film).
The Future is Here... And it is Slightly Annoying, runs at Boom Chicago's Rozentheater in Amsterdam throughout 2019 and deals with topics such as artificial intelligence (AI), the future of jobs, automation, and whether TV shows of the future will be entirely funded by product placement.
For 25 years, Boom Chicago has performed live sketch and improv comedy almost night at their theater in Amsterdam. Famous alumni that got their start at Boom Chicago include Seth Meyers, Jordan Peele, Amber Ruffin, Ike Barinholtz, Kay Cannon, Jason Sudeikis, Matt Jones, Allison Silverman, and Heather Anne-Campbell among others.
Visit Boom Chicago's website for current shows, dates and tickets. Trump Up the Volume 2020 opens in the spring of next year.
For more information, contact Aurora Melgar
Boom Chicago
Rozengracht 117
1016 LV Amsterdam
+31 20 21 70 400
aurora (at) boomchicago (dot) nl