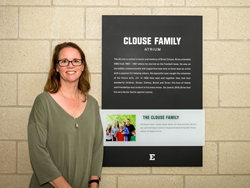 The new training facility is a wonderful and much-needed addition.
YPSILANTI, Mich. (PRWEB) January 06, 2020
GameAbove, a group of dedicated Eastern Michigan University alumni with various academic and professional backgrounds, continues to support all aspects of the institution with a recent $1 million contribution to the new Student-Athlete Performance Center.
The contribution was made in honor of the late Brian Clouse, a standout offensive lineman for the EMU football team in the 1980s and longtime member of the greater Ypslianti community who passed away in June 2019. The main entrance of the new athletic center is called the Clouse Family Atrium, a 1,288-square-foot welcome room that displays the championship success of Eastern Michigan athletics throughout its history, including the 1987 conference championship season and California Bowl win during Brian's final year of college football. The new Center also includes the Brian Clouse Players' Lounge, a space that allows football student-athletes to study, and bond with teammates.
"GameAbove is proud to join the many supporters who have provided funding and continue to contribute to the outstanding athletic program at Eastern Michigan. The new training facility is a wonderful and much-needed addition," said Denis Wolcott, spokesperson for GameAbove. "We're especially pleased to recognize Brian, who was a very giving, unselfish and gentle individual as well as an outstanding college athlete."
"Brian was a loving and caring father, husband, son and brother who touched family and friends in many positive ways. His is a legacy of compassion, support and giving back to his community. We know this honor will serve his memory and legacy for future generations," said Brian's wife, Jill.
The Student-Athlete Performance Center, which debuted last August, is a 63,000-square-foot, two-story structure that houses the sports medicine, performance and equipment operations areas. Additionally, the facility has locker rooms, coaches' offices, and meeting spaces for the football team, while also including a new video board inside Rynearson Stadium.
"Eastern Michigan University wants to thank GameAbove and the many other private donors who have contributed to this very advanced and well-designed student-athlete training facility," said EMU Vice President/Director of Athletics Scott Wetherbee. "Honoring Brian with this gift leaves a lasting highlight to an outstanding college football player and a reminder to future athletes about the importance of character and giving back to your community."
Over the past few months, GameAbove has donated more than $12.5 million to academic, athletic and supportive programs at Eastern Michigan University. Previously announced gifts of $3.5 million to EMU include the "GameAbove, Faculty First" initiative to support faculty development and the "Student Matters Most" grant to assist the academic and program needs of current and future students. The student initiatve focuses on providing financial resources for learning clubs, intramural sports, student government and student organization priorities, as well as solutions for student homelessness and housing insecurity, among other near-term needs.
##
About The GameAbove
At The GameAbove, our primary focus is to help shape, inspire and support the current and future students of Eastern Michigan University by reaching new heights in learning through transformation and inspiration in the educational experience. Together, we will strive for that next level of success with a GameAbove all others. The GameAbove family of organizations will also help improve the higher education experience by exploring and supporting the use of innovative financial models to sustain universities, creative giving within the community, enhancing the campus environment, elevating athletics and promoting pioneering academic programs. http://www.gameabove.com
About Eastern Michigan University
Founded in 1849, Eastern is the second oldest public university in Michigan. It currently serves nearly 18,000 students pursuing undergraduate, graduate, specialist, doctoral and certificate degrees in the arts, sciences and professions. In all, more than 300 majors, minors and concentrations are delivered through the University's Colleges of Arts and Sciences; Business; Education; Engineering and Technology; Health and Human Services; and, its graduate school. EMU is regularly recognized by national publications for its excellence, diversity, and commitment to applied education. For more information about Eastern Michigan University, visit the University's website.