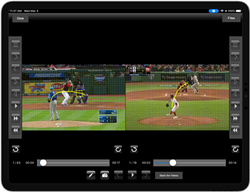 "Our team continues to create value for coaches and lead the sports industry with new innovative offerings for our valued Partners" - Jeff Brunsberg, Chief Revenue & Strategy Officer
PLANO, Texas (PRWEB) July 01, 2020
Stack Sports, the largest and fastest-growing global provider of sports technology, announced today that GamePlan and STEVA launched as an integrated software offering. GamePlan replaces paper playbooks and computer film studies with the latest in mobile technology. Today GamePlan powers over 80% of the MLB teams and partners include the current World Series Champions, Current NBA Champions, and a number of NFL franchises. Integrating with STEVA a world-class video breakdown software that has powered over 100 championships since launching will now save teams even more time.
Video can be directly edited within STEVA and published to GamePlan with the click of a button, for athletes to access on their own mobile device. This workflow puts valuable info into athletes' hands instantly, at a time when in-person meetings are suspended and the value of video learning is at an all-time high.
STEVA offers custom editing software to support six sports including hockey, football, basketball, soccer, lacrosse, and volleyball. To make sure no sport is left behind the STEVA team has added a customizable tab that can be programmed for ANY sport including tennis, cross country, wrestling, swimming, and more.
"We're excited to bring together these two great products that have a history of helping teams win more games," said Eric Perugini, General Manager, Performance Solutions at, Stack Sports. "The integration of GamePlan and STEVA is just the next evolution of video technology for sports organizations at every level. Now more than ever, it's important for teams to find a winning edge. We are proud to provide mobile video technology that helps drive results."
GamePlan is available to all levels of play from elite high school sports to the professional ranks and the STEVA integration will be offered to all current partners and includes:

Simplified Video Administration - The video editing of STEVA is now seamlessly transferring cut video into GamePlan to be delivered to your athletes.
Video Game Preparation on Demand - Players can securely access opponent game footage, previous seasons, or training anywhere, any time.
Performance Management – *87% of College Students perform better with access to immediate feedback on performance. We facilitate immediate feedback to athletes & improve the overall performance of in-game situations.
Multi-Sensory Learning Technology – Our proprietary learning technology that significantly enhances retention.
Team Collaboration - GamePlan helps teams connect faster, get feedback at the touch of a button, and better prepare when they are on the go.
"Our team continues to create value for coaches and lead the sports industry with new innovative offerings for our valued Partners," said Jeff Brunsberg, Chief Revenue & Strategy Officer, Stack Sports. "Stack Sports' Partners can expect continued best-in-class innovation in their technology experience combined with the great service and support they have come to expect from us."
GamePlan is Game Prep Made Easy. For more information on GamePlan or Stack Sports, please visit http://gameplan.stacksports.com or http://www.stacksports.com.
About Stack Sports
With nearly 50 million users in 35 countries, Stack Sports is a global technology leader in SaaS platform offerings for the sports industry. The company provides world-class software and services to support national governing bodies, youth sports associations, leagues, clubs, parents, coaches, and athletes. Some of the largest and most prominent sports organizations including the U.S. Soccer Federation, Little League Baseball and Softball, and Pop Warner Little Scholars rely on Stack Sports technology to run and manage their organizations. Stack Sports is headquartered in Dallas and is leading the industry one team at a time focusing on three key pillars -- Play, Improve, and Engage. To learn more about how Stack Sports is transforming the sports experience, please visit StackSports.com.
*Source: McGraw-Hill Education
Related Links: http://www.mheducation.com
Results: McGraw-Hill Education's 2015-2016 Digital Study Trends in Higher Ed Survey