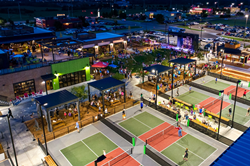 The Haas Door products add to the open environment of this structure.
WAUSEON, Ohio (PRWEB) November 21, 2019
Which came first, the chicken or … the pickle? At the newest location for Chicken N Pickle® in Wichita, Kansas, the answer is: the garage doors.
At the unique indoor/outdoor entertainment complex, a sprawling setting boasts pickleball courts, a variety of yard games, a restaurant and sports bar. The casual dining restaurant was designed with an open-air concept --- except when the weather turns bad.
Fourteen Haas Door Commercial Aluminum 320 garage doors were included in the structure design. The heavy-duty rust- and corrosion-resistant aluminum Cool Black garage doors feature an all-window design to maximize light flow into the restaurant.
"While closed, these garage doors do a great job of letting in enough light to keep the game rooms feeling open," says Kellen Mumm, vice president of business development with Chicken N Pickle. "When the weather is nice outside it's great to open them up to increase the flow of people from the inside to the outdoors.
"Haas Door garage doors with the tinted light gray glass are the perfect fit for the industrial chic look we want. They bring natural light into the interior space, which is a key to our restaurant experience."
Installation Perfection
At the new Chicken N Pickle, where healthy eating and interactive lawn games are encouraged, the stylish garage doors were installed by Overhead Door Group in Wichita.
Early on for this location we were involved with the owner, architect and general contractor to select and install garage doors that would enhance this property design," says Lee Costello, commercial sales and project manager for Overhead Door Group. "The Haas Door products add to the open environment of this structure."
With the "ups and downs" of the garage doors being a primary concern for the success of Chicken N Pickle, the team feels confident in the work supplied by Costello and his company. "From install to service, we've had a great experience with Overhead Door Group," says Mumm. "These Haas Door garage doors are a great addition to our building.
"There's no better way to easily open or close a 12-14 foot opening. It takes just 30 seconds for the garage doors to either open up and allow fresh air in the building, or to close up and keep everyone comfortable inside. With the weather we experience in Kansas, flexibility is the key. And the Haas Door garage doors put that flexibility at our fingertips!"
Haas Door is located in Wauseon, Ohio, where the company manufactures steel and aluminum residential and commercial garage doors. The family-owned company holds memberships in IDA and DASMA, and produces products that are sold throughout North America. For more information on Haas Door, visit http://www.HaasDoor.com.