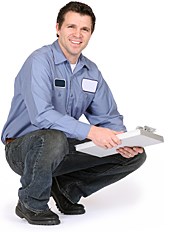 Los Angeles, CA (PRWEB) August 23, 2013
The garbage disposal is an essential piece of household equipment that rarely receives much attention until it malfunctions. A malfunctioning garbage disposal can really ruin a day and lead to a messy, smelly situation that requires immediate attention. Los Angeles garbage disposal repair company AM PM now offers services in the Los Angeles area.
Although it can be tempting to attempt at-home or DIY garbage disposal repair, this can be risky. In the best case scenarios, the attempted repair can be ineffective. In the worst case scenario, it can be dangerous. Home- and business owners can contact AM PM, which offers 24/7 service throughout Los Angeles and its suburbs, for experienced garbage disposal repairs. Service calls are an affordable $45, and AM PM Appliance Repair waives that fee when they complete the repair, leaving homeowners responsible only for the parts and labor involved in the repair.
Simple maintenance can help keep a garbage disposal running in good condition. Homeowners should avoid pouring grease or fat down the drain, and they should run cold water every time the garbage disposal is used. Running only small amounts of organic waste through the disposal can prevent clogs. Drain cleaners should not be used since they can damage the disposal, but a garbage disposal-safe degreaser can help keep the disposal running smoothly. Ice should be added once a week to clean the disposal and running lemon peels through the disposal can keep it smelling fresh.
Skilled garbage disposal repair can keep the drains open and the sink functioning. AM PM, Los Angeles garbage disposal repair company, also offers repair services for refrigerators, stoves, freezers, cooktops, ovens, range hoods, microwave ovens and wine coolers.
About AM PM Garbage Disposal Repair Los Angeles
AM PM, Los Angeles garbage disposal repair company, offers assistance for all domestic and foreign brands of appliances. Courteous technicians respond promptly and take the utmost effort to protect the work area so that homeowners and business owners are not left facing a big mess after their appliances have been repaired. Technicians even bring all essential parts directly to the home, restaurant or other location to reduce the amount of time spent waiting on repairs.
Website: http://www.garbagedisposalrepairlosangeles.com/
Press Release Submitted by AvitalWeb.com
Kevin Neman
(818) 205-9300