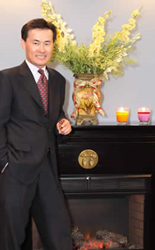 Dr. Kim instructs dentists on vertical occlusion collapse, effects of periodontal disease, and occlusion in complex cases.
GARDEN GROVE, CA (PRWEB) February 04, 2020
Dual board-certified Garden Grove, CA periodontist and co-director of the Global Dental Implant Academy (GDIA), Dr. Jin Kim presents "Beyond the 3-Unit Bridge" as part of the "Implant Therapy in the Complex or Full-Arch Cases" continuing education course. This comprehensive 8-day dental implant course is hosted in both California and Michigan and is directed by Dr. Kim and prosthodontist Dr. Gianmarco O'Brien.
This GDIA course includes a series of lectures, hands-on lessons, and live surgeries, offering attending dentists 56 hours of continuing education credits. Dr. Kim instructs dentists on vertical occlusion collapse, effects of periodontal disease, and occlusion in complex cases. Additionally, attending clinicians learn about intricate dental implants cases, including All-on-4® treatment modalities, from the periodontist and prosthodontist lecturers. Participating dentists can also bring cases for treatment planning or actual surgery. The course objectives include:

- Live dental implant surgery observations
- Interactive treatment planning
- "All-on-4, 5 or 6" dental implant concepts
- Restorative and treatment options
- Choice of graft/surgical techniques
Dr. Kim started this training program in 2015 and has now trained over 130 clinicians from all over the United States. Due to the popular demand of the course, a similar program will be taught in Detroit, MI this fall. When not lecturing, Dr. Kim treats patients at his two practices located in Garden Grove, CA and Diamond Bar, CA. He specializes in the placement of dental implants, including the revolutionary All-on-4 solution which restores a full arch of missing teeth with dental implants.
Dental implants are long-term tooth replacement solutions for missing teeth. They act as both the tooth root and crown, restoring form and function to a patient's smile. Dental implants require surgical placement into the jawbone from experienced specialists. With proper at-home care and routine dental visits, implants can often last patients the rest of their lives.
Those in need of full mouth dental implants are encouraged to call the practice at 909-860-9222 for the Diamond Bar location or 714-898-9757 for the West Garden Grove location. Information can also be found at the practice's website, http://www.drjinkim.com.
About the Periodontist
Dr. Jin Kim is a periodontist dedicated to providing personalized dental care in Diamond Bar and Garden Grove, CA. Dr. Kim attended the University of Sydney Faculty of Dentistry before furthering his education with an advanced degree in pathology from the Medical School of the same University. Dr. Kim completed a periodontics and implant surgery residency at UCLA School of Dentistry and is board-certified by the American Board of Periodontology and the American Board of Oral Implantology/Implant Dentistry. He is a past president of the Western Society of Periodontology and was also inducted to be a Fellow of the prestigious American College of Dentists and earned Fellowships in the International Congress of Oral Implantologists and the American Academy of Implant Dentistry. Dr. Kim lectures and holds faculty positions at a number of universities including UCLA School of Dentistry and abroad. He has spoken at no less than 36 different countries across the globe as well as national and international academic and clinical associations and universities including the International Association of Dental Research, American Academy of Periodontology and Academy of Osseointegration. To learn more about Dr. Jin Kim and the services he offers, visit his website at http://www.drjinkim.com or call 909-860-9222 for the Diamond Bar location or 714-898-8757 for the West Garden Grove location to schedule an appointment.