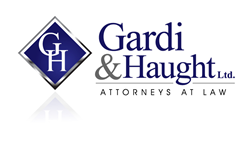 "My responsibility as an attorney is to advocate for my clients and to ensure that their rights are protected. I strive to obtain the most favorable outcome for my clients and to ensure that they are fully informed throughout the legal process."
SCHAUMBURG, Ill. (PRWEB) December 29, 2020
The Schaumburg, Illinois-based law firm Gardi & Haught, Ltd. announces the recent hiring of two new attorneys: Joseph Baldwin and Magdalena Gonzalez.
Baldwin, who received his Bachelor of Arts in History from the University of Illinois at Urbana-Champaign and his law degree from Chicago-Kent College of Law, practices several areas of law including corporate, commercial and residential real estate, and landlord/tenant.
Baldwin began his legal career working as a clerk at a downtown Chicago real estate firm. His experience includes representing countless clients in the purchase and sale of both commercial and residential properties; in the formation of corporate entities, the purchase and sale of corporate assets, and the review and drafting of corporate agreements. He also represents both landlords and tenants in eviction actions and disputes.
"My responsibility as an attorney is to advocate for my clients and to ensure that their rights are protected," he said. "I strive to obtain the most favorable outcome for my clients and to ensure that they are fully informed throughout the legal process."
Gonzalez recently completed her undergraduate studies at the University of Illinois at Urbana-Champaign, where she earned a Bachelor of Arts in History and Global Studies with a concentration in Human Rights. She earned her Juris Doctorate Degree from The George Washington University Law School in Washington, D.C. Her areas of concentration at Gardi & Haught are workers' compensation, personal injury, mass torts, and commercial litigation.
Gonzalez's experience includes working as a law clerk at the Department of Justice. During her third year, Magdalena was a student attorney at the Public Justice Advocacy Clinic, where she represented indigent clients in name change, unemployment, and wage & hour litigation. Magdalena also did pro bono work with the Chicago Legal Clinic, National Immigration Forum, International Refugee Assistance Project, and Innocence Project.
"I became an attorney because I am deeply committed to advocating for others—especially those in challenging situations that render them financially vulnerable," she said. "As a litigation attorney, I am driven every day to be a zealous, compassionate, and empathetic advocate for my clients by incorporating a tailored, client-centered approach to each of my cases."
About Gardi & Haught, Ltd.
Gardi & Haught, Ltd. is a law firm concentrating in Real Estate Law, Litigation, Immigration, Divorce, Estate Planning and Corporate Law. Founded by Hiten R. Gardi and Thomas E. Haught in 2003, the firm is located at 939 N. Plum Grove Rd., Ste. C, Schaumburg, Illinois. For more information, call 847-944-9400 or visit http://www.gardilaw.com.