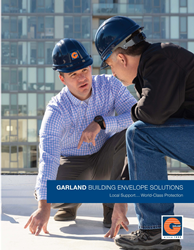 CLEVELAND (PRWEB) August 29, 2019
Garland recently released a new brochure highlighting its building envelope capabilities and outlining the variety of problems the company's representatives can help solve. Garland is known in the industry for its roofing products, but its offerings extend far beyond that to include solutions for windows, walls, parking structures and more.
The centerfold opens to a beautiful illustration that includes product call outs, showing all the areas of a building Garland's products touch. The services Garland offers, including design assistance, capital planning, budgeting and more are also covered.
"Garland has a strong reputation in the industry for its innovative roofing products, which is understandable since roofing is the company's core business," said Tom Diamond, Garland's director of product and systems. "But we want those customers to also understand that our capabilities are not limited to roofs. We have solutions designed for almost any condition related to the exterior of a building. We'll look at your roof, but we can also recommend solutions for your cracked walls or leaky windows."
The brochure is available on Garland's website or from your local representative. An interactive version will be live soon.
The Garland Company, Inc. is one of the worldwide leaders of quality, high-performance roofing and building envelope solutions for the commercial, industrial and institutional markets. For over 120 years, Garland has continually developed unique product and service offerings that have raised the bar of performance while exceeding the individual needs of customers throughout the world. Today, our network of over 220 local building envelope professionals is ideally positioned throughout the United States, Canada and the United Kingdom to provide quality building envelope solutions for single and multi-property facilities. The Garland Company Inc., headquartered in Cleveland, Ohio, is an ISO 9001:2015 certified company.
Visit http://www.garlandco.com or call 800.321.9336 for more information.