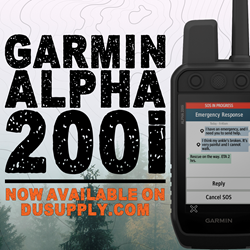 The Built in inReach is a game-changer in how I hunt - Buddy Woodberry
YACOLT, Wash. (PRWEB) October 06, 2020
Garmin International, the global leader of GPS dog tracking and training systems, announced the new Alpha 200i dog tracking handheld with built-in inReach satellite communication technology for the US. The Alpha 200i brings hunters all the track and train features hunters rely upon with the Alpha 100 but in a fully redesigned and improved package bound to become the ultimate all-in-one handheld GPS and messaging device for hunters and dog handlers.
"I really feel that with this product, Garmin really took the hunter's to heart and what we were asking for," said Jason Duby, Customer Relations Manager at Double U. This hunter-focused design is seen throughout the Alpha 200i in features like the larger, easier-to-read 3.5" touchscreen, additional function buttons for glove-friendly use, and preloaded topographical maps, along with more subtle features everyone benefits the savviest users notice — things like the "Last Known Fix" timer, improved map centering function, and "Groups" used to activate and disable dog collars and other Alpha handhelds being tracked.
"I think the customers are going to be really happy with it," said Duby, "The Alpha 200i isn't something hunters will stumble over to get back to hunting and doing what they love.
While features like WiFi connectivity make customer's lives easier through over-the-air software updates and direct-to-device Birdseye Satellite Imagery downloads, it's the built-in inReach Technology that brings the biggest change to Garmin's Track and Train lineup with the Alpha 200i. By signing up for an inReach subscription plan, users can send and receive text messages, check the weather, and upload tracking points to their MapShare page, all via satellite with no cell service required. Pairing the Alpha 200i with a smartphone using the new Garmin Explore App, inReach messages can be typed and sent easily using the keyboard of the smartphone.
"The Built in inReach is a game-changer in how I hunt," said Buddy Woodberry, owner of Double U. "I'm able to head into the woods without any cell phone service and stay connected with my wife, work, etc."
This new product is fully compatible with all Current Garmin dog Tracking collars and will link up with other ANT+ enabled devices such as the Drivetrack, Tempe sensors, and Fenix and Instinct watches.
To learn more about the Garmin Alpha 200, listen the 200i podcast episode at Double U Podcast.
Double U hunting supply has been the leader in GPS dog tracking products and looks forward to providing service and support for the Alpha 200i. For more information or to place an order for a Alpha 200i, visit http://www.dusupply.com or Call Double U Hunting Supply at 855-384-8687.