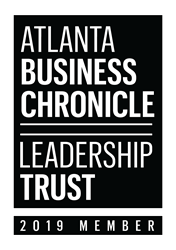 ATLANTA (PRWEB) March 19, 2019
Gary Simat, CEO of Total Server Solutions, has been invited to join Atlanta Business Chronicle Leadership Trust, an exclusive community for influential business leaders, executives and entrepreneurs in the Atlanta area.
Gary was chosen for membership by the Atlanta Business Chronicle Leadership Trust Selection Committee due to his experience, leadership, and influence in the local business landscape and beyond. Gary is presently the founding CEO of Total Server Solutions, an Atlanta based managed infrastructure company where he and his team of 105 engineers aim to provide stable, secure, and scalable solutions for their clients around the globe. Recently the company has been recognized for several awards such as being listed on the Inc. 5000 for 2017 and 2018, and Atlanta Business Chronicle's Pacesetter 2018. Gary was recognized in 2018 as an Atlanta Top Entrepreneur – Upper Middle Market via the TiE Atlanta Organization.
"Atlanta's thriving business community is powered by leaders like Gary," said David Rubinger, President and Publisher of Atlanta Business Chronicle. "We're honored to be creating a space where the region's business influencers come together to increase their impact on the community, build their businesses and connect with and strengthen one another."
As an invited member, Gary will contribute articles to the Atlanta Business Chronicle website and participate alongside fellow members in Expert Panels. He will connect and collaborate with a vetted network of local leaders in a members-only directory and a private forum on the group's mobile app. Gary will also benefit from leadership and business coaching, an Executive Profile on the Atlanta Business Chronicle website, select partner discounts and services and ongoing support from the community's concierge team.
"It's exciting to be part of an elite group of Atlanta based entrepreneurs. There is vast amount of experience that can be shared all around the table. I look forward to assisting in bringing up the next generation of entrepreneurs in cooperation with some of the other members." Said Gary Simat, CEO of Total Server Solutions.
The Atlanta Business Chronicle Leadership Trust team is honored to welcome Gary to the community and looks forward to helping him elevate his personal brand, strengthen his circle of trusted advisors and position him to further impact the Atlanta business community and beyond.
About Business Journals Leadership Trust
Atlanta Business Chronicle Leadership Trust is a part of Business Journals Leadership Trust — a collective of invitation-only networks of influential business leaders, executives and entrepreneurs in your community. Membership is based on an application and selection committee review. Benefits include private online forums, the ability to publish insights on bizjournals.com, business and executive coaching and a dedicated concierge team. To learn more and find out if you qualify, visit trust.bizjournals.com.
About Total Server Solutions
Total Server Solutions is an IT services company with 31 PoPs across the globe focusing on connecting businesses to their customers and the data they need... anywhere. The TSS platform includes Managed Colocation, Dedicated Server, Managed Private Cloud, Bare Metal Server, CDN, DRaaS, Backup & Recovery, and a low latency, high performance network enabling customers to securely and seamlessly move workloads anywhere in the world.