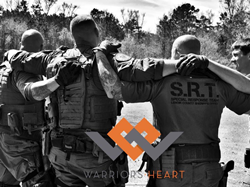 Through joining forces with exceptional organizations like Warriors Heart, we are also committed to treating the invisible wounds that afflict so many of our veterans and first responders. - Bobby George, Director of Outreach for the Gary Sinise Foundation
SAN ANTONIO (PRWEB) October 05, 2020
In sync with Mental Health Awareness Week (Oct 4-10, 2020), the Gary Sinise Foundation and Warriors Heart announce that they are working together to heal veterans and first responders struggling with PTSD and substance abuse. Earlier this year, the Gary Sinise Foundation awarded a grant to the Warriors Heart Foundation to treat at least three first responders and veterans each month: one of which was U.S. Navy Veteran Zakri Zoeller.
After completing the Warriors Heart program this summer, Zoeller reflected; "God definitely has something planned for me because I should've been arrested. I don't know how I didn't kill myself." Zoeller is now working as a car salesman, and is saving up money to buy a wedding ring for his girlfriend Sam.
Warriors Heart Founder and CEO Josh Lannon expressed his gratitude, "We are truly grateful to the Gary Sinise Foundation for supporting Warriors Heart's 'Strength Through Healing' programs so warriors like Zakri can heal with peers without the stigma or shame often felt when asking for help."
"Gary Sinise started our Foundation in 2011 out of a desire to raise spirits and improve the mental health of our service members and their families. The Gary Sinise Foundation is dedicated to supporting and honoring those, like Zakri Zoeller, who so bravely served our nation," said Bobby George, Director of Outreach for the Gary Sinise Foundation. "Through joining forces with exceptional organizations like Warriors Heart, we are also committed to treating the invisible wounds that afflict so many of our veterans and first responders."
Along with the Warriors Heart evidence-based clinical programs, this program works on the mind, body and spirit to replace bad habits with good ones. Some of Warriors Hearts' non-traditional tools include jiu-jitsu, meditation, wood and metal shop, fishing on-site, biofeedback, gym, and the Warriors Heart K-9 Program working with emotional support dogs.
The PTSD and substance abuse statistics for warriors emphasize why there is an urgent need for these programs. Sadly, the U.S. loses more soldiers at home versus in combat with an average of 17 veteran suicides per day in the U.S. (2019 National Suicide Prevention Annual Report, US Department of Veteran Affairs) and 1 Law Enforcement Officer suicide every 62.5 hours. More than 1 out of every 4 veterans with PTSD also have a substance abuse disorder (National Center for PTSD at the Department of Veterans Affairs). The latest National Survey on Drug Use and Health from SAMHSA (2018) also found that roughly 80 percent of veterans have a substance use disorder.
Warriors Heart's Vision is to "Bring 1 Million Warriors Home" by rebuilding their lives, with the help of like-minded organizations like the Gary Sinise Foundation.
After Zakri completed the Warriors Heart program, his father said, "We got our old Zak back."
Today, Zakri says, "Life is good."
MEDIA CONTACTS:
Warriors Heart, Liz Kelly, 310-987-7207
Gary Sinise Foundation, Marielle Gilbert, 203-816-7734
ABOUT Warriors Heart (Bandera, Texas near San Antonio):
Warriors Heart is the first and only private accredited treatment program in the U.S. exclusively for "warriors" (active duty military, veterans, first responders and EMTs/paramedics) faced with the self-medicating struggles of alcohol addiction, prescription and drug addiction, PTSD (post-traumatic stress disorder), mild TBI (Traumatic Brain Injury) and other co-occurring issues in a private, 60-bed facility on a 543-acre ranch. Along with a minimum 42-day peer-to-peer residential treatment program, Warriors Heart gives "warriors" the option of Detox, Day Treatment, Outpatient, and Sober Living (60-day minimum). Warriors Heart's work has been featured on the TODAY Show, CBS Health Watch, FOX 11 Los Angeles, National Defense Radio Show and in TIME, Forbes, The Chicago Tribune, Addiction Pro magazine, San Antonio Business Journal and many more. There is a 24-hour Warriors Heart hotline (844-448-2567) answered by warriors. https://www.warriorsheart.com/
ABOUT Warriors Heart Foundation (Bandera, Texas)
Warriors Heart Foundation is a 501 (c)(3) that accepts donations to help heal our protectors with their peers. One of the missions of the foundation is to provide financial aid through hardship grants that assist in covering the cost of treatment at Warriors Heart to help our military, veterans and first responders get the treatment they have earned and deserve. https://www.warriorsheartfoundation.org
ABOUT Gary Sinise Foundation (Los Angeles, California)
The Gary Sinise Foundation was established under the philanthropic direction of actor and humanitarian Gary Sinise, who has been an advocate of our nation's defenders for nearly forty years. The Gary Sinise Foundation serves our nation by honoring our defenders, veterans, first responders, their families and those in need. The Foundation's programs—designed to entertain, educate, inspire, strengthen, and build communities—serve America's heroes and their loved ones 365 days a year. https://www.garysinisefoundation.org/