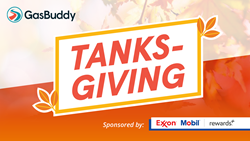 BOSTON (PRWEB) November 07, 2018
Today, GasBuddy announced a partnership with ExxonMobil to celebrate this year's TANKSgiving, a GasBuddy holiday that happens on the Thursday before Thanksgiving, grounded in the premise that millions of Americans are preparing to drive hundreds of miles to be with friends and family – requiring a lot of gas.
This year from November 14-15, GasBuddy and Exxon and Mobil stations will host the biggest TANKSgiving gas giveaway event, with more than $25,000 worth of fuel to be given away to drivers across the U.S., helping even more people feel more 'tankful.'
"'I am really excited to hit the road the day before Thanksgiving!' said no one ever," opined Michael DiLorenzo, Chief Marketing Officer at GasBuddy. "Traveling during this holiday can be a pain point for many consumers. TANKSgiving, on the other hand, is the complete opposite. We are thankful to partner with Exxon and Mobil stations this year to make the drive a little easier."
To participate in TANKSgiving, drivers must be an Exxon Mobil Rewards+™ member. Anyone can join Exxon Mobil Rewards+ for free online at gasbuddy.com/tanksgiving (or directly on ExxonMobilRewardsPlus.com). In addition to being surprised with up to $25 of free fuel at a surprise location, Exxon Mobil Rewards+™ members can enter for a chance to win a 'cornucopia' of points worth $20 in gas to use where they live, ideal for the busy holiday driving season.
"Exxon and Mobil stations focus on every detail of the fueling experience from pumping to paying. We are excited to surprise and delight our Exxon Mobil Rewards+ members with this fun holiday experience," said Eric Carmichael, Americas fuels marketing manager, ExxonMobil Fuels & Lubricants. "Our Exxon and Mobil Synergy™ gasoline is engineered with seven key ingredients, designed to protect your engine and give you better gas mileage – perfect for families on the road next week."
How to Enter the TANKSgiving Sweepstakes
People across the U.S. can enter to win free tanks no matter where they live. This year 1,000 people will win $20 worth of gas in the form of Exxon Mobil Rewards+ points. The contest starts on November 14 and will end on November 15. Visit gasbuddy.com/tanksgiving and enter online with your 16-digit Exxon Mobil Rewards+ account card number.
The TANKSgiving Gathering
On November 15 at a secret Exxon or Mobil gas station in the United States, people who are Exxon Mobil Rewards+™ members will get up to $25 of free gas. Just show up, enter the phone number you registered with your Exxon Mobil Rewards+ with into the pump or use your rewards card and voilà...tankful. The exact location will be revealed via GasBuddy's email newsletter and social media channels the day before the event. Additionally, hints will be given along the way leading up to the event.
About ExxonMobil
ExxonMobil, the largest publicly traded international oil and gas company, uses technology and innovation to help meet the world's growing energy needs. We hold an industry-leading inventory of resources and are one of the largest integrated refiners, marketers of petroleum products and chemical manufacturers. For more information, visit http://www.exxonmobil.com or follow us on Twitter @ExxonMobil.
About GasBuddy
GasBuddy is a company that connects drivers with their Perfect Pit Stop. As the leading source for crowdsourced, real-time fuel prices at more than 150,000 gas station convenience stores in the U.S., Canada and Australia, millions of drivers use the GasBuddy app and website every day to find gas station convenience stores based on fuel prices, location and ratings/reviews. GasBuddy's first-of-its-kind fuel savings program, Pay with GasBuddy, has saved Americans more than $3.6 million at the pumps since its launch in 2017. The company's business solutions suite, GasBuddy Business Pages, provides Fuel Marketers and Retailers their best opportunity to maintain their station information, manage their brand, and promote to their target consumer audience.