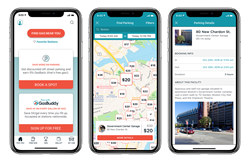 "By extending our capabilities from gasoline to parking, we will help the driving public save thousands of dollars and valuable hours each year staying true to our mission."
BOSTON (PRWEB) November 28, 2018
For more than 18 years, GasBuddy has helped tens of millions of drivers save money every time they fuel up their cars with gasoline. Today, GasBuddy is extending this promise to American motorists by helping them find, reserve and pay for discounted parking at thousands of facilities across the United States.
As an added benefit, GasBuddy will also give participating drivers GasBack™ -- rebates in the form of free gasoline -- when they "Park with GasBuddy." It's part of GasBuddy's new GasBack™ program that rewards consumers with free gasoline when they engage with GasBuddy.
Motorists spend an average of 17 hours a year searching for parking spots, which adds up to an estimated $345 per driver in wasted time, fuel, and emissions. Now consumers can open the GasBuddy app and quickly locate available discounted garage parking near them while earning credit for free gas.
"The GasBuddy app has evolved from shopping smart with our app to paying smart with our payment card. Our core promise to the consumer has always been about value, convenience, and simplicity," said Michael DiLorenzo, chief marketing officer at GasBuddy. "By extending our capabilities from gasoline to parking, we will help the driving public save thousands of dollars and valuable hours each year staying true to our mission."
This feature is just the latest example of how GasBuddy platform is evolving to provide opportunities for consumers to easily earn GasBack™. To start earning, sign up for the Pay with GasBuddy card, the first-of-its-kind gasoline savings program that gives U.S. drivers a discount on virtually every gallon of gas they will ever pump with. Pay with GasBuddy works at thousands of stations nationwide and can be used at the pump like any other form of payment. The program has 400,000 members and counting.
Park with GasBuddy parking spots are powered by the Arrive Network from ParkWhiz.
About GasBuddy
GasBuddy is a company that connects drivers with their Perfect Pit Stop. As the leading source for crowdsourced, real-time fuel prices at more than 150,000 gas station convenience stores in the U.S., Canada and Australia, millions of drivers use the GasBuddy app and website every day to find gas station convenience stores to shop at based on fuel prices, location and ratings/reviews. GasBuddy's first-of-its-kind fuel savings program, Pay with GasBuddy, has saved Americans more than $3.6 million at the pumps since its launch in 2017. The company's business solutions suite, GasBuddy Business Pages, provides Fuel Marketers and Retailers their best opportunity to maintain their station information, manage their brand, and promote to their target consumer audience.