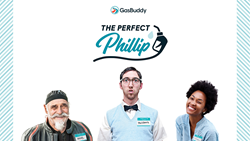 "It's about time the name Phillip gets the recognition it deserves," said Philip Corson, a real GasBuddy employee who is very proud of his name, and prefers it to be spelled with one L.
BOSTON (PRWEB) September 18, 2018
For years GasBuddy has been dedicated to perfecting the fill-up. The popular app, with more than 75 million downloads, helps drivers find gas stations based on price, location and whether or not the restrooms will make you gag. Today GasBuddy wants to honor those who live, breathe and embody the fill-up in the most literal way: People named Phillip*.
"It's about time the name Phillip gets the recognition it deserves," said Philip Corson, a real GasBuddy employee who is very proud of his name, and prefers it to be spelled with one L. "Every day in the office I hear 'fill-up this' and 'fill-up that'. It's distracting, confusing and leaves me feeling...empty."
GasBuddy will be celebrating folks named Phillip until the end of the year. To kick off the celebration, GasBuddy will attempt to break the record for the largest gathering of Phillips getting fill-ups. What was the previous record? No one really knows.
On Sept 20 at a secret gas station in Los Angeles, people who show up with the first or last name Phillip will get up to $25 of free gas. Yes, proof of identification will certainly be checked because GasBuddy frowns upon fake Phillips. The location will be revealed on GasBuddy's social media channels on the morning of the event.
Other Phillip celebrations include:

GasBuddy understands not everyone is blessed with the name Phillip. You can get some free gas too. Visit http://www.gasbuddy.com/perfectphillip and enter to win. A perfect fill-up will be given each month (October, November and December) until the end of 2018.**
Do you know a Phillip who is pretty darn amazing? Share your #PerfectPhillip on Instagram for a chance to win a perfect fill-up for you and your Phil.
For more information on all the Perfect Phillip happenings visit http://www.gasbuddy.com/perfectphillip .
About GasBuddy
GasBuddy is a smartphone app connecting drivers with their Perfect Pit Stop. GasBuddy is the leader in crowdsourced information to help drivers find the best gas prices, closest stations, friendliest service, cleanest restrooms, tastiest coffee and much more. GasBuddy is the leading source for the most accurate, real-time fuel prices at more than 150,000 gas stations in the U.S., Canada and Australia. The Company's B2B Retailer Software-as-a-Service (SaaS), known as GasBuddy Business Pages, provide Fuel Marketers and Retailers their best opportunity to maintain their station information, manage their brand, and promote to their target consumer audience.
*To participate: person whose legal name (first or last) comprises, in whole or in part, any of the following: Phillip, Philip, Phil, Phillis, Philis, Phillus, Phyllis, Philus, Fillus, Filus, Phillipe,Phillipa, Philipa, Fillipa, Filipa, Philippa, Philomena, Filomena, Filip, Felip, Felipe, Felipo, Fil, Pilip, Phillipos, Pillipos, Pilipos, Philipp, Philips, Phillips, Phillipus, Filippos, Filippo, Philipo, Phileas, Philibert, Philbrick or Phillipo. Minor spelling variations also may be accepted if not reflected in the above list.
**NO PURCHASE NECESSARY. A PURCHASE OR PAYMENT OF ANY KIND WILL NOT INCREASE YOUR CHANCES OF WINNING. YOU DON'T ACTUALLY HAVE TO NAMED PHILLIP TO ENTER. Odds of winning depend on the total number of entries received. Void where prohibited by law. Sweepstakes only open to legal residents of the 50 United States and the District of Columbia, 18+. Entry period ends: 11:59 p.m. ET on 12/31/18. ARV of prize: $50 USD. By making a purchase or otherwise participating in this sweepstakes, you are agreeing to the full Official Rules.