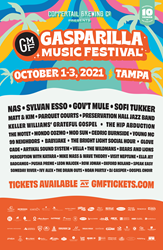 Gasparilla has been described as a Festival on a Mission
TAMPA, Fla. (PRWEB) October 01, 2021
The Gasparilla Music Festival ("GMF") presented by Coppertail Brewing Co returns this weekend with dozens of bands along Tampa's Riverwalk. The festival, which normally takes place in the spring, is celebrating its 10th year and will run Friday October 1 through Sunday October 3.
The non-profit festival has been referred to as a "festival on a mission" and proceeds from the weekend go to providing instruments and other support to music classrooms in Title 1 elementary schools.
Lineup
The festival headliners that will performing on the JW Marriott Stage in Curtis Hixon Park include Florida-based electronic music duo Sofi Tukker on Friday, legendary hip hop artist Nas on Saturday, and southern rockers Gov't Mule on Sunday. The Morgan Automotive Stage in Kiley Gardens will be closed out by rap superstar Young MC on Friday, indie electronic duo Matt & Kim on Saturday, and singer-songwriter Mondo Cozmo on Sunday. The full lineup can be found at https://gasparillamusic.com/2021-lineup/ or by downloading the GMF 2021 App.
Food
Food at GMF is available at its "Calle Cocina" located in Curtis Hixon Park and has been heralded as one of Tampa Bay's best foodie events. Over two dozen highly acclaimed local restaurants showcase their signature dishes and represent everything from Tampa Bay's classic cuisine (Cuban sandwiches, Grouper sandwiches) to innovative street fare with a modern twist. The full food menu can be found at https://gasparillamusic.com/venue-map/food-information/
Drinks
GMF offers plenty of libations starting with award winning beer from its presenting sponsor Coppertail Brewing Co. including the Tampa favorite Free Dive and soon to be festival favorite Florida Special lager. Other Coppertail brews that will be on hand include Unholy, Sunken Grove, Night Swim, Fruit Berliner, and Berliner Painkiller. And entering its 10th year as a GMF sponsor, Tito's Handmade Vodka is located throughout the festival grounds. Funky Buddha will be presenting its latest hard seltzers, and Cantina will have its special canned tequila cocktails. Tampa based craft distillery Dark Door Spirits will be serving specialty cocktails at GMF's Tibbetts' Corner. Liquid Death is providing canned water for the festival, and Red Bull will be on hand with a couple specialty drinks.
Sustainability
As part of its Sustainability Initiative sponsored by Tampa's Palmas Clinic, GMF is offering free bike valet service from Two Wheel Valet. GMF is also offering free water refills at one of the Florida Blue Water Stations. The festival has taken steps in 2021 to reduce its waste streams and drastically increase its usage of recyclable products.
COVID-19 Safety Measures
The Gasparilla Music Festival has implemented several safety measures this year including increased hand washing locations, cashless payments, and a COVID entry policy.
COVID-19 ENTRY POLICY
Everyone ages 12 years and older will be required to provide a negative COVID-19 test result to enter the festival grounds. If you are vaccinated, you may provide proof of vaccination instead of a negative test. Attendees can bring physical or photographic proof but GMF is recommending attendees use the Bindle App to ensure easier access into the festival.
For more information, please go to our FAQ page at https://gasparillamusic.com/frequently-asked-questions/
Tickets
Tickets are $40-$250 and are available at http://www.gmftickets.com
********
http://www.gasparillamusic.com
info@gasparillamusic.com
#gmftampa #gmf2021 #tamparealness #gasparillamusicfest
About Gasparilla Music Foundation
Gasparilla Music Foundation is a 501(c)(3) non-profit organization founded in 2011 that produces the Gasparilla Music Festival. The foundation works year round to support music education through its Recycled Tunes program and to promote local musicians through its GMF Productions program. The foundation receives support from its membership program, Higher Ground. For in-formation about becoming a member, visit http://www.gmfhigherground.com