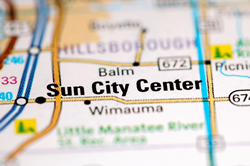 "With over 60 million Americans suffering from digestive diseases nationwide," says Josh Helms, PPOA's Chief Operating Officer, "These services are guaranteed to make an immediate impact on the local Sun City community and patients throughout Florida."
TAMPA, Fla. (PRWEB) November 03, 2021
Sun City Ambulatory Surgery Center, a Physician Partners of America company, is partnering with surgeons from across Hillsborough County to start treating gastrointestinal patients by the end of the year. This expansion of services will provide affordable, convenient healthcare options to Hillsborough County, currently an underserved market.
This brand-new facility will further PPOA's mission of providing affordable, convenient, and personalized care to patients with all types of pain. Currently, the clinic serves chronic pain, spinal, and orthopedic patients and other non-pain-related specialties. However, the addition of gastrointestinal surgical services can advance healthcare solutions and the reach of PPOA across Central Florida.
Right now, there are only a handful of established gastroenterologists in the Hillsborough County region. This small number of specialists limits care availability and gives many regional patients few options for traveling to their preferred clinic. We hope to bring in patients who have nowhere else to go for their gastrointestinal and pain issues by adding these services.
"With over 60 million Americans suffering from digestive diseases nationwide," says Josh Helms, PPOA's Chief Operating Officer, "These services are guaranteed to make an immediate impact on the local Sun City community and patients throughout Florida."
As part of Florida's substantial geriatric market, gastrointestinal care is essential for holistic healthcare. Patients are at higher risk for gastrointestinal issues than other patients, ranging from problems swallowing to celiac disease and esophageal issues.
Founded in 2013 by a physician-turned-entrepreneur, Physician Partners of America aims to offer patients a safe, seamless healthcare experience. Our company grew from just three employees and one clinic in 2013 to more than 500 employees and nearly 30 locations in 2018. We offer pain management, orthopedics, minimally invasive laser spine surgery, and AAAHC-accredited ambulatory surgery centers.