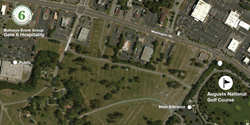 "Included parking, phenomenal food, cold beverages, indoor/outdoor pavilion and an easy walk to Augusta National. That is Gate 6 Hospitality!" - Kyle Kinnett, Gate 6 Hospitality spokesman
Indianapolis, IN (PRWEB) March 23, 2016
Introducing: Gate 6 Hospitality from Bullseye Event Group
Bullseye Event Group has earned the reputation for providing the best hospitality for the biggest events in America - like The Super Bowl Players Tailgate at the Super Bowl. And now, Bullseye Event Group is bringing their major event hospitality expertise and experience to the Masters with Gate 6 Hospitality.
"The Masters is a completely different kind of event where Augusta National is the attraction. The gates open at 8am and clients line up as early as 6am to get out onto the course and pick their spot to sit for the day. While there is a need for hospitality, it's our opinion that our clients aren't looking for traditional banquet style hospitality and our clients are not looking to spend $350-$400 for hospitality after a long day on Augusta National".
That is why Bullseye Event Group is now offering what will be known Gate 6 Hospitality: Previous experience and knowledge tells us clients want a super comfortable indoor / outdoor option, incredible food, premium bottled beer and cocktails with friendly staff - for $200. Plus, free parking is available right outside our hospitality pavilion for those purchasing daily hospitality for the Masters.
Location, Location, Location!
Augusta National's recent closing of Berkman's Road and the new entrance on Alexander road makes Bullseye Event Group's Gate 6 Hospitality pavilion the most convenient hospitality option available to Masters attendees. Boasting over 8,000 square feet of weather protected indoor pavilion opening up to an additional 4,000 square feet of covered outdoor patio seating makes this easy access for the new entrance to Augusta National and Alexander Road.
Gate 6 Hospitality Includes:

Daily hospitality 7:00am – 7:00pm (with open premium bar and all you can eat food menu)
Guests can enjoy closed circuit Masters coverage on large screen HDTVs, in a lounge atmosphere with soft leather furniture
Located on the Publix lot on Washington Road & Alexander Road, right outside Gate 6 parking lot.
Buffet artisan meats and cheese
Vegetable crudité green goddess dip
Fresh baked breads and rolls
Caeser Salad lettuce wraps with parmesean crisp
Crab stuffed jalapeno wrapped in bacon
Grilled and chilled shrimp rolls with green onion aioli
BBQ pork on mini brioche buns with Atlanta slaw
Kobe Beef Cheesesteak
Crispy chicken sliders
Lobster Tacos with habanero peach salsa
Fried green tomato with remoulade
Grilled asparagus with lemon and chive
Roasted cauliflower with parmesan, parsley and herbs
Truffled red bliss potato
Shortbread, vanilla ice cream, carmelized peaches
Chocolate pecan pie with vanilla ice cream
Call Bullseye Event Group today at 317-800-3280 for pricing and insider information regarding the 2016 Bullseye Event Group Gate 6 Hospitality at the Masters, as well as complete Masters Hospitality packages!
About Bullseye Event Group
Bullseye Event Group is the official events and travel partner of the Indianapolis Colts. As a secure, official source for travel, hotel, pre-game parties and tickets, Bullseye Event Group is a direct and dependable source for the Colts VIP Tailgate, Super Bowl packages, the Super Bowl Players Tailgate, the Masters and event tickets, delivering unforgettable experiences to fans. To learn more about Bullseye, visit BullseyeEventGroup.com.