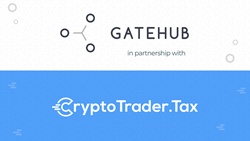 KANSAS CITY, Mo. (PRWEB) March 02, 2020
CryptoTrader.Tax, a software platform for automated cryptocurrency tax reporting, has announced that it is partnering up with Gatehub, a popular Ripple wallet and gateway. The partnership will provide Gatehub users with an automated and streamlined way to import all of their historical crypto transactions into the CryptoTrader.Tax platform to then generate necessary tax reports with the click of a button. These reports can be taken to a tax professional or imported into popular tax filing software such as TurboTax.
It's no secret that the IRS has been making strides in the realm of cryptocurrency and bitcoin tax enforcement. In 2019, they updated their official cryptocurrency tax guidance for the first time in five years, sent out more than 10,000 warning letters to suspected cryptocurrency investors, and added a new question to 1040 Schedule 1 which now asks all American taxpayers if they transacted with cryptocurrency during the year. This increased enforcement has crypto enthusiasts actively searching for tax automation solutions like CryptoTrader.Tax.
In the U.S., tax season is in full swing with the deadlines coming on April 15th. The IRS estimates that roughly 12 million returns should contain some form of cryptocurrency income.
"Gatehub has built a powerful XRP wallet and gateway that is used globally" said David Kemmerer, Co-Founder and CEO of CryptoTrader.Tax, "We are excited to be working alongside their talented team to bring an easy, streamlined tax reporting experience to all Gatehub users."
For further comment or inquiries, please reach out to Faith Schubert.
faith.schubert@cryptotrader.tax