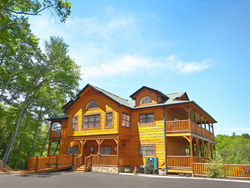 Gatlinburg, TN (PRWEB) August 12, 2014
Venture Resorts, Gatlinburg's largest luxury cabin rental agency, has announced a special weekend promotion. This weekend only, August 15-17, guests can save up to 50% off all of the company's cabins.
"The weather has been great in the Smokies," says Billy Parris, general manager of Venture Resorts, "It's a great time of year for hiking, kayaking or just spending time with the family."
With this weekend's special, a two-bedroom rental like the company's "Good Times" cabin is available for just $98 per night, after discount. The same cabin rents for $245 per night during peak season.
A four-bedroom Pigeon Forge cabin like "Sweet Emotions" is available for just $154 per night, after discount. Peak season rates for the same cabin are $410 per night.
"All of our properties are wood homes," say Parris, "But today's definition of a wood home is pretty deluxe. It's more like a guest lodge." Parrish says modern travelers want all the comforts of home on their vacation, especially when they travel with children. Cabins range in size from one-bedroom retreats to twelve bedrooms.
"You still get a porch with a rocking chair and great views of the Smokies," Parrish says. "But that doesn't mean you're roughing it."
Cabin prices vary by cabin based on size, amenities and cabin location. Guests can visit the company's web sites to see current rates for all cabins, with this weekend's promotions discounts applied at the time of booking. This offer is not available for existing reservations.
About Venture Resorts
Venture Resorts is the largest luxury cabin rental agency in the Smoky Mountains, managing over 440 cabins within minutes of Great Smoky Mountain National Park and family-friendly attractions in Gatlinburg and Pigeon Forge, Tennessee.
For more information, call (866) 347-6659 or visit one of the company's web sites http://www.cabinsofthesmokymountains.com or http://www.cabinsofpigeonforge.com.