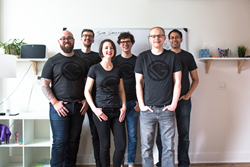 "Using Gatsby has helped us reach our very high standards for speed and performance, as well as making it easy for other IBM teams to build IBM-branded sites." -- Alison Joseph, senior front end developer at IBM and development manager for Carbon website properties
BERKELEY, Calif. (PRWEB) September 26, 2019
Gatsby, the fast growing platform becoming the de facto hub for building websites, has raised $15 million in Series A funding.
CRV led the round, with previous seed investors Trinity Ventures, Mango Capital, Fathom Capital, and Dig Ventures participating. Kong CEO Aghi Marietti and Scott Belsky, founder of Behance and CPO at Adobe, also invested. CRV General Partner Devdutt Yellurkar, who has led investments in popular developer tools startups like Postman, Kong and SignalFx, has joined the board.
Gatsby's adoption curve since its inception in 2015 has been organic and impressive. Major consumer and enterprise brands are already using Gatsby to build key web properties, including IBM, Braun, Ideo, Airbnb, Impossible Burger, and hundreds more. In fact, 1% of the top 10,000 websites are now built on top of Gatsby, and that slice is growing fast.
"Gatsby has become a critical piece in our approach to web development, and underpins the web presence of IBM Design initiatives, including the IBM Design language and our open-source Carbon Design System," said Alison Joseph, a senior front end developer at IBM and development manager for Carbon website properties. "Using Gatsby has helped us reach our very high standards for speed and performance, as well as making it easy for other IBM teams to build IBM-branded sites."
"The technology that powers the web is being reinvented. Again. In order to make the web lightning fast and far more secure, the technology architecture that powers websites is going through a fundamental change," said Devdutt Yellurkar, general partner at CRV. "Kyle is a visionary who saw this in 2015 and created Gatsby to capitalize on this paradigm shift. Gatsby is now leading the way with massive adoption amongst developers and content creators. I'm looking forward to working with this incredible team to supercharge the Internet."
The business of website development is well over $40 billion as a market, and it's evolving quickly. The market for Content Management Systems (CMS) is more than $5 billion alone. The application security market, of which mobile and web-based applications comprise a huge chunk, is expected to reach more than $11 billion in the next 5 years. And Content Delivery Networks (CDN), an increasingly important last-mile delivery mechanism driving website speed and performance, is forecasted to reach $24.9 billion by 2025.
Gatsby is leading a reinvention of this industry as the first centralized "content mesh" platform, acting as a universal compatibility layer for any and all data used to build websites. It has productized the modern React and JavaScript development environment to work out of the box, and integrates with more than 120 backends, more than 15 of the top CMS platforms, and over 1200 plugins.
"We've spent four years building Gatsby to be the most comprehensive platform for building a modern website. What would take companies months or even years to implement with a cutting edge web stack is trivial to start with, build with, and deploy on Gatsby," said Kyle Mathews, CEO and co-founder of Gatsby. "This is why companies love using Gatsby, and why we've been able to build such a thriving developer community that helps us continually improve the platform and ecosystem. We're excited to use this funding to make Gatsby even better, and help more people build beautiful, blazing fast websites."
Previously, Gatsby raised a $3.8M seed round led by Dan Scholnick of Trinity Ventures, with participation from Mango Capital, Mulesoft founder Ross Mason's Dig Ventures, Fathom Capital, and the Pantheon founding team (Zack Rosen, Josh Koenig, Matt Cheney, David Strauss).
About Gatsby, Inc.
Gatsby is the modern web hub redefining the way brands build their online presence. Its content mesh platform is used by hundreds of companies around the world, including IBM, Harry's, and digital agencies that use Gatsby to create web properties for Fortune 500 clients. Gatsby is backed by CRV, Trinity Ventures, Dig Ventures, Mango Capital, Fathom Capital, and prominent angel investors. The company is headquartered in Berkeley, CA. Learn more at http://www.gatsbyjs.com.
About CRV
CRV has been a leading investor in high-growth technology companies for nearly half a century, focusing on enterprise, consumer and bioengineering. The firm has backed over 400 startups in its nearly 50-year history, including some of the biggest tech exits in the last few years including Dropbox, PillPack, Ring, Twitter, and Zendesk. CRV has offices located in San Francisco and Palo Alto, CA, and Cambridge, MA. Please visit CRV.com for more information and follow us on Twitter @CRV.