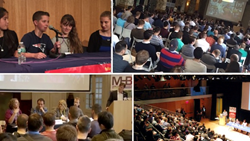 Representatives of LGBT associations from Belgium, France, the Netherlands and Italy will discuss the limited fatherhood options gay Europeans have, and join MHB's call for ethical and effective surrogacy solutions in Europe.
Brussels, Belgium (PRWEB) September 19, 2016
After a successful conference in May 2015 that attracted prospective gay fathers from all over Europe, the nonprofit organization Men Having Babies (MHB) is holding on Sept. 24-25 the second 'Brussels Conference on Parenting Options for European Gay Men'. More than 200 men from 12 countries have already secured their participation, and only standby tickets are available.
"The large number of prospective fathers that come to our conferences clearly demonstrates that there is a strong yearning among gay men in Europe to become parents, but who virtually have no legal options available in their own countries" said Anthony Brown, MHB's board chairman.
The 2015 conference received a considerable amount of public attention — though not all of it was positive. "We were aware of how sensitive the subject is, however, we were surprised by the misinformation and hyperbole in some of the media coverage. A major Belgian newspaper actually claimed that we are 'selling babies', which is untrue and utterly ridiculous," said Ron Poole-Dayan, MHB's executive director, who is himself a gay father of teenagers, born with the help of a surrogate. "Based on what we heard from some journalists and politicians, there is a lot work to do in Europe," said Marc Faber from the Dutch LGBT association Meer dan Gewenst.
In fact, MHB is advocating for stringent ethical standards in surrogacy, and calls for legislation in Europe that will eliminate the need for prospective parents to travel to other countries in order to build their families. At the opening session of the conference (and at a press briefing earlier that day), representatives of LGBT associations from Belgium, France, the Netherlands and Italy will discuss the currently limited fatherhood options gay Europeans have, and will join MHB's call for ethical and effective surrogacy solutions in Europe.
MHB's position is based on a new Framework for Ethical Surrogacy, which is now available in English, French, German, Spanish, Italian and Hebrew. The framework was developed with the assistance of an advisory committee comprised of surrogate mothers, two of whom will speak at the conference. Several LGBT partnering organizations in the USA and Europe have already endorsed it or adopted similar positions, including the organizations represented at the conference. Furthermore, private clinics or agencies that do not abide by the baseline ethical protocols are not allowed to participate at MHB's conferences. In particular, the organizers would like to stress the following:
1. Surrogacy can be a beautiful thing if it is done ethically, as a non-commercial act of support between fully consenting human beings (even if the surrogates get compensated), and while protecting the safety and rights of all involved parties.
2. We support regulation of surrogacy, and think it would be best if the intermediaries (surrogacy agencies) are not for-profit organizations.
3. We think that the donors and surrogates should be compensated for the risk, effort and inconvenience associated with their contribution. This in itself does not make the act "commercial". We think that the compensation should not be tied to specific outcomes (hence it is not "buying" anything) and should not be market-driven.
4. We also think the compensation should be limited by law, to avoid undue enticement due to unreasonably large compensations. We feel this will reduce the likelihood that candidates will choose egg donation or surrogacy in the absence of sufficient altruistic motivation, and in circumstance that may lead to adverse long term medical or psychological outcomes.
5. It would be best if surrogacy can be done domestically. We know from experience that when the law forces people to go abroad it makes it harder to establish meaningful relationships with the surrogates and their families, and adds needless cultural and financial obstacles.
"We do not accept the American model without criticism," said Poole-Dayan. "We work hard to encourage legislation in the USA and Europe to follow these guidelines. However until that happens, we support the right of prospective parents to seek the help of ethically reputable providers that can help them today, and we want to guide them how to be more mindful of the ethical options they currently have. This is why we organize conferences wherever our members ask us to come. We currently have six annual events - in Brussels, New York, Chicago, San Francisco, Dallas, and Tel Aviv. MHB helps its members with information, financial assistance and guidance on ethical surrogacy practices."
"MHB is a nonprofit organization, not a company," stressed Brown. "While we were founded in NY, we now have board members and staff in various locations, and our membership includes about 5000 current and future gay parents worldwide, among them 1400 are from Europe."
The 2016 Brussels conference will be held at a larger venue and in an expanded format, and will once again bring together community activists, medical and legal experts, parents and surrogate mothers. On the second day of the conference (Sunday 25 September) several workshops and panels will provide peer advice on surrogacy and adoption of children from the USA. Attendees will learn about finding and choosing professionals to help in the process, and about financial assistance through MHB's Gay Parenting Assistance Program (GPAP). GPAP annually provides prospective fathers who cannot afford the expenses involved with becoming parents with over a million dollars worth of cash grants, discounts and free services for surrogacy and adoption in the USA.
Since the last conference in Brussels, MHB strengthened its ties with several European partners and started accepting applicants from France, the Netherlands, Belgium, Spain, Switzerland and the UK to GPAP. "We received about 40 applications from Europeans, and 21 have been accepted," said A.J. Edge, MHB's director of operations and finance. "We also received requests from men in Germany, Sweden and Denmark, and are in the process of making arrangements to include them as well."
While the conference is primarily aimed at gay men, the organizers stress that non-gay prospective parents are welcome and will no doubt highly benefit from attending as well. "Indeed, It is important to say that while surrogacy is often the only way gay men can form autonomous families (since adoption is often illegal or not widely available), it is not exclusively a 'gay issue'," said Poole-Dayan. "Most of the people who receive the help of surrogates are still heterosexuals — but they are less visible and public about it than gay couples."