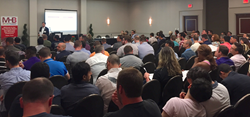 I was shocked but very appreciative at how personal, friendly, helpful and informative everyone was... The love from surrogates and their desire to help were definitely in the air. We can tell you really care!
Dallas, TX (PRWEB) June 24, 2016
The June 19th event was based on the successful model of programs Men Having Babies has already organized in NYC, LA, San Francisco, Chicago, Brussels and Tel Aviv. It brought together under one roof community activists, experts, parents and surrogates who will share their experiences. The large event hall at the Wyndham Dallas Suites - Park Central was filled to capacity with prospective parents from all over Texas, as well as Florida, Oklahoma, Louisiana, Utah, Nevada and California.
Men Having Babies (MHB) is an international non-profit organization that has helped thousands of gay men worldwide become biological parents, and its conferences are the only ones that provide unbiased information and resources focused on biological parenting options for gay men. The Dallas conference received wide support from leading LGBT establishments and groups in Texas including the Dallas Voice, the Resource Center (the primary LGBT organization in North Texas), Rainbow Roundup, The Handsome Father, and the Teddy Bear Party.
The full-day program included an overview of surrogacy and a comparison to other parenting options, step-by-step guidance on the process for prospective parents, peer advice on budgeting and picking providers, and a personal stories panel with parents and surrogates, that was streamed live on Facebook. One of the highlights was a testimony from a surrogate's husband, who described himself as a "Texas oil man," and encouraged the gay men in the audience not to get caught up in stereotypes. "I was there for my wife, but also for the intended fathers… showing them how to set up car seats, and even remind them to eat when they were running around bouncing off the walls."
Heather Jacobson, of the University of Texas in Arlington, presented insights from the first extensive ethnographic examination of contemporary gestational surrogacy in the United States. Jacobson wrote about this research in the recently published book – "Labor of Love: Gestational Surrogacy and the Work of Making Babies."
The program also included a Gay Parenting Resource Fair, co-sponsored with the Dallas Voice, featuring more than 25 clinics, agencies, lawyers and community organizations. While some of the exhibitors were local, many came to Dallas from around the USA, including California, Nevada, Illinois, Minnesota, and Oregon. Attendees were able to hear about these providers in breakouts sessions, and even meet with them later for on-site private consultations. "The Dallas Voice partnered with Men Having Babies to offer the first surrogacy and gay parenting expo in Texas because we realize that this is an issue that many gay men find important and often have difficulty finding information about," says Leo Cusimano, the publisher. "Now that marriage is legal for all couples, many more gay men are considering parenthood and are interested to know more about the various options they can choose."
After the event the organizers were flooded with messages from thankful attendees. "We approached the event with a bit of skepticism, but at the event we felt welcomed, understood, and accepted," wrote Andres from Dallas. "The love from surrogates and their desire to help were definitely in the air. We can tell you really care!" A prospective parent from El Paso wrote that he felt that his trip was well worth it – "I couldn't have more praise for those of you who put this together. There's so much information to have to learn in a very short amount of time." Brian and Abel wrote: "we both left the conference feeling fully equipped with the proper information and contacts to start our journey." "I was shocked but very appreciative at how personal, friendly, helpful and informative everyone was," Wrote Tim. "If I had known about MHB earlier, I would have began this journey many years ago."
Proceeds from the event benefited MHB's Gay Parenting Assistance Program (GPAP), which annually provides dozens of prospective parents with over a million dollars worth of cash grants, discounts and free services from more than fifty leading service providers. Among the major supporters of the assistance program are some of the sponsors of the Dallas conference, including Simple Surrogacy, Fertility Specialists of Texas, San Diego Fertility Center, Family Source Consultants, Oregon Reproductive Medicine, and Northwest Surrogacy.
In addition to the local supporting organizations, additional community organizations from the region and beyond have joined to help promote the event and provide information about the resources they have for gay parents and parents-to-be. Among them are the national organization Family Equality Council, All Things Surrogacy, Gays With Kids, and Proud Parenting.
***
About Men Having Babies
With over 4500 future and current gay parents worldwide, the international nonprofit Men Having Babies (MHB) is dedicated to providing its members with educational and financial support. Each year over a thousand attendees benefit from unbiased guidance and access to a wide range of relevant service providers at its monthly workshops and conferences in NY, Chicago, Brussels, San Francisco and Tel Aviv. The organization's Gay Parenting Assistance Program(GPAP) annually provides dozens of couples with over a million dollars worth of cash grants, discounts and free services from over fifty leading service providers. Collaborating with an advisory board made of surrogates, MHB developed a framework for Ethical Surrogacy that has received endorsements from several LGBT parenting organizations worldwide. In addition, MHB offers extensive online resources, a directory with ratings and reviews of agencies and clinics, a Surrogacy Speakers Bureau, and a vibrant online community forum.