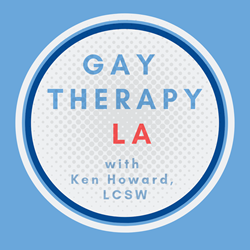 "I'm glad the the new podcast reaches gay men who might be in isolated areas, but still want information and tips on improving quality of life wherever they are."
LOS ANGELES (PRWEB) July 22, 2019
Ken Howard, MSW, LCSW, the founder of GayTherapyLA.com, is a gay male (and HIV-positive, 29 years) licensed psychotherapist in private practice based in Los Angeles and West Hollywood, California, who has specialized in providing therapy and coaching for gay men, gay male couples, and people living with HIV/AIDS, for over 27 years. He offers LGBT-affirmative and sex-positive counseling (within California) or coaching (outside California) services in his office, via phone, or via webcam to gay men who want help on many quality of life topics, from career guidance to help with life stressors, psychiatric disorders, relationship challenges, or sexual issues. He has recently launched the companion podcast to his practice and blog, "Gay Therapy LA with Ken Howard, LCSW", available on iTunes, Spotify, and all podcast resources.
Gay men who live in big cities with a large gay population (such as Los Angeles or New York) can easily find a gay-identified psychotherapist who offers help for their relationship, career, sex, dating, family, health, and mental health concerns. But for gay men who live in other cities or in rural areas where there are fewer gay-identified or gay-affirmative psychotherapists or life/business coaches, getting the necessary help might be harder to find, leaving gay male clients feeling isolated, and their concerns invalidated. Hosting the podcast show helps otherwise isolated gay men access information that otherwise would only be available through formal therapy or coaching sessions.
Recent episodes among the first 12 produced have included titles such as "Overcoming Fear of Bottoming", "Overcoming Fear of Topping", "Religious Abuse of Gay Men and Its Healing", and "Problem-Solving in Gay Men's Open Relationships". While there are other gay male focused podcasts, including those on sex-positive topics, few are offered by a currently-licensed psychotherapist and professor (Howard is an adjunct associate professor at the Suzanne Dworak-Peck School of Social Work at the University of Southern California (USC), where has taught courses to graduate Master of Social Work (MSW) students on evidence-based psychotherapy practice, couples therapy, and LGBT Psycho-Social-Political Issues).
Ken Howard, MSW, LCSW, is based in West Hollywood, California, and has specialized in working with gay men almost exclusively for over 27 years. By offering sessions in both his office in Los Angeles and online, he is able to support gay men who want access to a gay men's specialist who understands them in depth, but used to have to travel far to get it, go without, or even risk seeing a therapist who engages in harmful "reparative" therapy (which has been widely discredited and made illegal for minors in California and 17 other states). With national marriage equality and increased visibility of the LGBT population worldwide, more people are seeking gay-affirmative counseling, psychotherapy, and coaching services, which preserve the dignity of LGBT persons seeking help.
Laws governing licensed psychotherapists in each state can be strict about offering "telehealth" or online professional psychotherapy services. Only clients who reside in California can receive psychotherapy services, because California is the state where Howard is licensed. People outside of California can receive life coaching or business coaching services, which do not come under the same restrictions, though some limitations of online work still apply, which are discussed with each client.
"In-person sessions are always the ideal for therapy," Howard says, "but for many people who live in areas where there are fewer counseling and coaching professionals per capita, finding someone who specializes in a particular niche of expertise, such as gay men, might be harder to find. Most of my clients seek me out because they want to talk to another gay man who 'gets it' without having to explain a lot, to even the most well-meaning straight therapists. It's the same thing for HIV-positive people; they want to learn how to survive and thrive living with HIV, as I have, for 29 years. Working online has provided the answer for serving clients nationally or worldwide. For people who can't afford private-practice professional therapy or coaching services, having my blog and my podcast help people access information for free, that's based on my 27 years in practice helping guys just like them, probably with very similar problems."
While many psychotherapists and coaches can provide gay-affirmative services, Howard argues that for most issues, seeing a specialist offers an added benefit. "Cultural competency is important for all counseling and coaching services," Howard adds, "This is taught in most graduate counseling and social work programs. But there are many issues in vernacular, slang, terminology, and cultural, socio-political, and socio-historical implications in working with gay men that apply. Most gay male clients appreciate working with someone who understands all of this right from the start, which is why they seek me out as a gay male provider. This goes a long way in building rapport and, ultimately, to resolving problems."
Services are available on a private-hire basis only, but for California residents, some insurance reimbursement might be possible via PPO-style health plans with out-of-network benefits. Clients pay session fees online through a software program designed for therapists called SimplePractice, which gave Howard a "paperless office" starting in 2018.
Howard is the author of the self-help book (which is not exclusively for the gay community), "Self-Empowerment: Have the Life You Want!", based on his first 18 years as a psychotherapist. He also publishes a monthly e-newsletter for gay men, available via email subscription.
The podcast, "Gay Therapy LA with Ken Howard, LCSW" is available here: https://podcasts.apple.com/us/podcast/gay-therapy-la-with-ken-howard-lcsw/id1450860786.
Those interested in having sessions in-person (in Southern California) or via webcam or phone can contact Ken Howard, LCSW by calling or texting 310-339-5778, or via email at Ken(at)GayTherapyLA(dot)com.