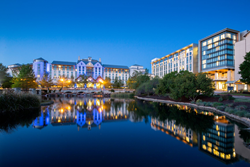 "Our top priority in hosting meeting and leisure visitors is implementing our over 300 new and enhanced cleaning protocols," said Gaylord Texan General Manager Chuck Pacioni. "From the first moment a guest arrives, it is of paramount importance to us that we welcome them with these safety and cleanl
GRAPEVINE, Texas (PRWEB) September 30, 2020
Gaylord Texan Resort & Convention Center is proud to announce its recent achievement of the Global Biorisk Advisory Council® (GBAC) STAR™ accreditation, the gold standard for prepared facilities. As the cleaning industry's only outbreak prevention, response and recovery accreditation, GBAC STAR™ helps organizations establish protocols and procedures, offers expert-led training and assesses a facility's readiness for biorisk situations. The program verifies that Gaylord Texan implements best practices to prepare for, respond to and recover from outbreaks and pandemics.
"GBAC STAR accreditation empowers facility owners and managers to assure workers, customers and key stakeholders that they have proven systems in place to maintain clean and healthy environments," said GBAC Executive Director Patricia Olinger. "By taking this important step to pursue GBAC STAR, Gaylord Texan Resort & Convention Center has received third-party validation that it follows strict protocols for biorisk situations, thereby demonstrating its preparedness and commitment to operating safely."
To achieve GBAC STAR™ accreditation, Gaylord Texan was required to demonstrate compliance with the program's 20 core elements, which range from standard operating procedures and risk assessment strategies to personal protective equipment and emergency preparedness and response measures. In accordance with Marriott's "Commitment to Clean" practices, the resort is providing enhanced cleaning technologies, hospital-grade disinfectants, attendants dedicated to sanitizing frequently throughout the day, new social distancing protocols, and hundreds of new cleaning processes to take care of guests while they enjoy the resort's amenities.
Additionally, Gaylord Texan's ownership group, Ryman Hospitality Properties, Inc. (NYSE:RHP) has been working with Vanderbilt University Medical Center (VUMC), a leader in medical research, as its official wellness advisor.
Learn more about GBAC STAR accreditation at http://www.gbac.org.
About Gaylord Texan Resort
The premier resort destination of the American Southwest, Gaylord Texan Resort on Lake Grapevine offers extraordinary environments, 1,814 luxury guest rooms, and four-and-a-half acres of Texas vistas under signature atriums. Amenities include award-winning restaurants, Paradise Springs outdoor pool complex, Relâche Spa & Salon, retail shops, and more. Ideally situated on the shores of beautiful Lake Grapevine, Gaylord Texan is conveniently located only six minutes from Dallas-Fort Worth International Airport.
About GBAC, a Division of ISSA
Composed of international leaders in the field of microbial-pathogenic threat analysis, mitigation, response and recovery, the Global Biorisk Advisory Council (GBAC), a Division of ISSA, provides training, guidance, accreditation, certification, crisis management assistance and leadership to government, commercial and private entities looking to mitigate, quickly address and/or recover from biological threats and real-time crises. The organization's services include biorisk management program assessment and training, Forensic Restoration® response and remediation, the GBAC STAR™ facility accreditation program, training and certification of individuals and consulting for building owners and facility managers.