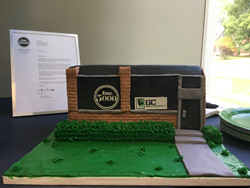 This recognition is truly a validation to our commitment to the highest caliber of customer service."
ROSELLE, Ill. (PRWEB) August 26, 2020
GC Realty & Development LLC, a full service Chicago Property Management and Brokerage firm, has been listed in the top 5000 list of the fastest growing private companies in the U.S. by Inc. Magazine for the second year in a row. This list represents a unique look at the most successful companies within the American economy's most dynamic segment—its independent small businesses.
In their most recent publication, GC Realty & Development, LLC ranked 2,861, higher than their 2019 ranking of 3,153. They have grown exponentially over the last 3 years and have posted a revenue growth of 139%.
"We are very grateful and honored to be included in the Inc. list for the second consecutive year. This recognition is truly a validation to our commitment to the highest caliber of customer service." said Mark Ainley, Partner at GC Realty & Development, LLC. "Our continuous growth year after year would not be possible without the dedication of our talented team members whose passion and commitment to responsiveness has helped us achieve this incredible recognition. We also could not have achieved this success had it not been for our wonderful clients, residents, and the amazing members in the communities we serve that speak positively about us time and time again".
Complete results of the Inc. 5000, including GC Realty & Development LLC's company profile and an interactive database, can be found at http://www.inc.com/inc5000.
About GC Realty & Development, LLC
Founded in 2003, GC Realty & Development LLC is a full-service Real Estate firm specializing in Residential & Commercial Property Management as well as Residential & Commercial Real Estate Brokerage. GC strives to do exactly what property owners hire them to do, protect their investment. Rarely do you find a true full-service brokerage house that offers all of the services that GC Realty & Development, LLC provides. Hire the most responsive property management and brokerage team in the Chicagoland area to work for you! Visit our website today for info on our services, real estate investment info, investment properties, and investor success stories!
Additional Resources
Connect with GC Realty & Development LLC via Twitter, Facebook, and LinkedIn
For news, tips, and updates, subscribe to the GC Realty & Development LLC Blog
Listen to all episodes of Straight Up Chicago Investor podcast available on all your favorite streaming service.