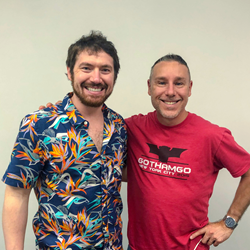 "Building unique software that solves a problem is difficult. Turning that unique software into a startup company that can scale is even more challenging. This open-source Starter Kit for SaaS accelerates building software into high-growth companies," said Lee Brown, co-director of Geeks Accelerator
ANCHORAGE, Alaska (PRWEB) May 28, 2019
Geeks Accelerator, an Alaska-based, "startup accelerator", just finished the first release of its open-source code project to bootstrap software-as-a-service businesses. This open-source code project written in the GO programming language is expected to transform Alaska's startup ecosystem.
Geeks Accelerator is a non-profit organization connecting entrepreneurs, software engineers, creatives, and investors who love Alaska in order to fuel the growth of startup and tech communities. With this mission, the Alaska accelerator is making this software project open-sourced, "a type of computer software in which source code is released under a license in which the copyright holder grants users the rights to study, change, and distribute the software to anyone and for any purpose." For the Alaska startup community, as well as others, this means that the code will be readily available and will be further developed in a collaborative public manner.
Twin brothers and directors for Geeks Accelerator, Lee and Lucas Brown, have been developing software and specifically software-as-a-service (SaaS) products for almost 15 years. Their experience lead to the creation of the non-profit accelerator and for profit venture studio for SaaS startups. After conducting an extensive code review of their past software with Bill Kennedy, co-founder and professor of GO at Ardan Labs, they have committed to building an open-source toolkit for starting new SaaS products.
This open-source project for starting new SaaS products gives software engineers in Alaska a foundation for learning the computer programming language of GO. It will increase the speed of innovation in Alaska by enabling software engineers and entrepreneurs to build and scale SaaS products.
"Since resources are constrained in Alaska, our accelerator focuses on the bootstrapped mentality of building scalable software startups," said Lucas Brown, co-director of Geeks Accelerator. "By leveraging the open-source Starter Kit for SaaS, embracing local talent, and providing entrepreneurial education, we believe startups focused on solving challenging opportunities with software can thrive in Alaska."
The goal of the open-source project is to document repeatable patterns for building SaaS products. Geeks Accelerator believes this will be the foundation for other entrepreneurs and software engineers in Alaska to successfully build SaaS startups and scale them. Geeks Accelerator will provide training and workshops on GO using this Starter Kit for SaaS. The Starter Kit for SaaS will also be a core component of their future 10-week bootcamp style accelerator program. Since open-source projects are community-driven, the Starter Kit for SaaS project will grow by software engineers at local companies adopting and contributing to it.
The Starter Kit for SaaS will provide the functional building blocks for software engineers to be creative engineers, enabling them to design their software applications how they see fit. Think of the SaaS Starter Kit as a set of document templates for software that can be executed to help reduce repetitive copy/pasting, enabling scalability while preventing both misuse and fraud. It will include deep integrations with AWS for serverless infrastructure, GitLab for continuous deployment and Datadog for instrumentation. This approach increases the humanity in the accelerator's method of bootstrapping SaaS companies.
"Building unique software that solves a problem is difficult. Turning that unique software into a startup company that can scale is even more challenging. This open-source Starter Kit for SaaS accelerates building software into high-growth companies," said Lee Brown, co-director of Geeks Accelerator. "Using this Starter Kit for SaaS, companies will be able to rapidly train new software engineers without requiring them to load all lines of code into their own mental model before they are able to create value for the business."
While the initial version of the SaaS Startup Kit in GO is still being completed and will be the foundation for future Geeks Accelerator programming, it's core architecture has already proven to be successful.
The core software architecture for the SaaS Startup Kit began to be developed over a year ago. One of the original implementations of the architecture was for Aurora.cam - a software-as-a-service that detects the aurora borealis (i.e. northern lights) in Alaska using image recognition and notifies customers.
Most notably, the core architecture was recently leveraged to build Keeni Space - a software-as-a-service providing paperless workflows for standard operating procedures. Keeni Space is the creation of two Alaskan-born SpaceX engineers, Ben Kellie and Robb Kulin, and their partners, the twin brothers Lee and Lucas.
"This is what I call modern software development," said Bill Kennedy, co-founder and professor of GO at Ardan Labs. This modern approach is welcomed by the software engineering community. Geeks Accelerator believe this modern approach will help "accelerate" the startup and tech communities in Alaska.