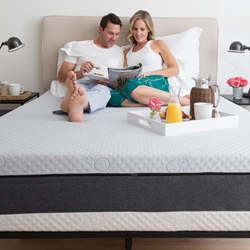 The NuSeasons mattress is unlike others in that it is two luxury mattresses in one -- cool and cozy -- with double the density, which means double the comfort.
AUSTIN, Texas (PRWEB) February 05, 2019
GelPro®, the leading U.S. manufacturer of the most plush, comfortable and durable kitchen and commercial mats on the market, is expanding into another comfort category: "bed-in-a-box" mattresses. Today, GelPro introduces its "NuSeasons™ by GelPro" mattress, an ultra-luxurious, dual-sided mattress offering both "cool" and "cozy" sides.
The NuSeasons mattress features four layers of premium comfort and support to evenly distribute body weight and alleviate uncomfortable pressure points and was thoughtfully engineered to provide two climate-controlled sides that offer the perfect feel and temperature for the best night's sleep year-round. The adaptive and breathable middle support core properly distributes weight and breathability to both sides of the mattress. A gel-infused, visco-memory foam layer aids in optimal temperature control for both sides. An ultra-premium, high-density foam – double the industry standard – surrounds the mattress, providing a naturally buoyant and supportive feel and is designed to never sag or compress over time.
The reversible NuSeasons mattress offers GelPro's C2 Comfort Technology – two comfort options available by simply flipping the mattress. The "cool side" uses a cooling material that draws excess heat away from the body. Cool to the touch, this side is the perfect choice for use in warmer climates, during the summer and spring, or anytime for those who get warm during the night. The "cool" side is slightly firmer than the "cozy" side.
The "cozy" side, made from luxurious cashmere fibers that come from the under-down of cashmere goats, offers a plusher, extra-soft feel, with natural breathability. The "cozy" side is ideal for use in cooler seasons and climates. When the seasons change, the cover is conveniently coded with "cool" and "cozy," making it extra easy to identify each side.
"We have always been a comfort company – providing the most comfortable and beautiful floor mats for the home and workplace," says Robb McMahan, co-founder of GelPro. "It was a natural transition to create an innovative luxury mattress designed with the utmost comfort in mind. The NuSeasons mattress is unlike others in that it is two luxury mattresses in one – cool and cozy—with double the density, which means double the comfort."
NuSeasons mattresses are 12 inches thick and have a foam density of 3.6 pounds, compared to most foam mattresses that have nearly half the density. NuSeasons' foams also have been approved and certified by CertiPUR-US® to be free from harsh chemicals.
Just like GelPro's line of comfort mats, its NuSeasons mattresses are manufactured in the United States.
GelPro offers a 100-night trial for its NuSeasons mattresses. The company will remove old mattresses, which are donated to charities where possible. If a customer is not satisfied, GelPro will provide a full refund and will pick up the mattress at no charge. GelPro also offers a 10-year warranty on its NuSeasons mattresses.
NuSeasons mattresses are available in twin, twin XL, full, queen, king and California king and fit standard bed foundations. Prices start at $700 for a twin. Mattresses ship the next day after ordering from NuSeasons.com or GelPro.com. GelPro is currently offering an introductory 30 percent discount for its NuSeasons mattresses.
Headquartered in Austin, Texas, GelPro was founded in 2003 by Robb and Lisa McMahan to develop the most comfortable, plush, anti-fatigue floor mats. The company has sold more than 3.5 million mats, the majority of which are manufactured in Waco, Texas. They are sold direct-to-consumer at GelPro.com and at national retailers, including Bed, Bath & Beyond, Amazon.com, Target.com, Wal-Mart.com, Staples.com, as well as many kitchen specialty stores.
About Let's Gel, Inc.
GelPro® and NewLife® products are made by Let's Gel, Inc., a privately held company in Austin, Texas, and leading provider of branded anti-fatigue mats for residential and commercial use. Let's Gel, Inc.'s mission is to offer innovative products that improve the lives of the people that stand on them. Robb McMahan, an engineer by trade who created the only patented anti-fatigue mat with a gel core, founded Let's Gel, Inc. in 2003. In 2011, GelPro launched its specially designed Medical Mat. In 2012, Let's Gel, Inc. expanded its GelPro line with the addition of NewLife branded mats for residential use. In 2013, NewLife Eco-Pro Mats were introduced into commercial markets. In 2014, the company introduced GelPro Elite Mats, which come in more than a thousand colors and patterns. With its manufacturing plant in Waco, Texas, GelPro and NewLife mats are proudly manufactured in the USA. To learn more about Let's Gel, Inc., and its brands, visit http://www.gelpro.com, like our Facebook page, and follow us on Twitter @GelPro and Instagram @gelpromats. Stand in Comfort!®