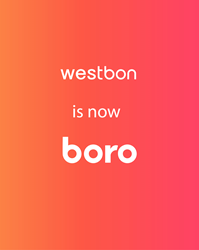 At Boro, we believe in the great potential that college students have and look beyond FICO scores to offer them better rates.
(PRWEB) August 23, 2018
A significant shift in funding for Gen-Z college students all across America has just arrived with the expansion of Westbon into a wider financing network under the name Boro. Along with the name change, Boro intends to bring auto and personal loan services to all US college students, not just the international students they have primarily helped up until now.
"We want all US college students to know that they now have a financial pathway to reach their goals," said Hao Liu, CEO and co-founder of Boro. "US college students have been underserved by the traditional consumer loan industry. They deserve affordable financing options when making large purchases and also a better way to build credit." Boro does not only help Gen-Z students fund their purchase or lease of cars, but also makes it easier to secure what they need to succeed in university studies, such as pay for new phones, laptops, travel costs, professional training expenses and much more. With tailored auto loan, auto lease and personal loan products, Boro will help college students establish their credit history and improve their financial literacy.
The core philosophy driving Boro is that all college students deserves access to the essentials of a productive life. "College students have been underserved when it comes to financing because they have no or thin credit file in the FICO score system," Liu explained. "At Boro, we believe in the great potential that college students have and look beyond FICO scores to offer them better rates." The company's proprietary underwriting system utilizes alternative data sources rather than FICO to determine the creditworthiness of college students and will streamline the financing process for all college students in the US.
The name change is a natural evolution of the company's mission and it seeks to balance out the financial needs of domestic and international students. Under the new banner of Boro, the company will assist the Gen-Z college students in turning the page on a new chapter in their financial future.
About Boro
Boro (formerly Westbon) is a leading consumer financing platform for college students. With its proprietary underwriting system, Boro is revolutionizing the existing consumer financing industry by providing convenient and affordable financial solutions to college students, who are underserved in the current market. Auto loan service is now available in 31 states; personal loan service is now available in 14 states; auto lease service is now available in CA.
For media inquiries please contact:
support@borocredit.com
Boro Website: https://www.borocredit.com/
Facebook Page: https://www.facebook.com/borocredit/