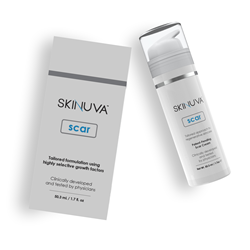 Our case series was able to show that scars treated with Skinuva scar cream had a gene expression that favored optimal wound healing.
BEVERLY HILLS, Calif. (PRWEB) September 03, 2019
A new publication on Skinuva scar cream and its superior effects in optimally healing scars came out in Scars, Burns, & Healing Journal, which is a peer-reviewed medical journal that primarily focuses on research in scars and healing. Skinuva scar cream was compared to regular silicone cream in post-surgical scars within a small case series, and gene expression analysis was performed.
"Gene expression analysis is an advanced method in evaluating tissue biopsies, and we were able to show that Skinuva scar cream heals scars better than silicone cream at a cellular level," says founder of Skinuva and principle investigator of the study, Dr Christopher Zoumalan. "Our case series was able to show that scars treated with Skinuva scar cream had a gene expression that favored optimal wound healing. This is incredibly exciting, and even more reason to use Skinuva scar cream for post-surgical scars, as we have yet to see such high quality and advanced research within the topical scar cream industry."
Certain genes of interest within the scar healing cascade were evaluated, such as Collagen Type I and Type III, and Fibroblasts, and the authors were able to see that Skinuva treated scars had, for instance, the most favorable Collagen Type I to Type III ratio. "This is a compelling case series that shows some significant changes on how scars respond to Skinuva scar cream versus silicone cream." Dr. Zoumalan concludes by saying that "despite such results, this publication is a case series, and future studies will require us to expand and evaluate a larger population of patients to truly understand how scars respond to scar creams such as Skinuva on a cellular level."
Skinuva is a next-generation scar cream that is the first to use highly selective growth factors in its unique formulation. It is arguably the most advanced scar cream formulated, where clinical studies have shown that it performed two times better than regular silicone cream. Skinuva was developed and formulated by Dr. Christopher Zoumalan, a board-certified Beverly Hills Oculoplastic surgeon and his team of chemists and scientists. Skinuva has been clinically applied on thousands of scars, and clinically tested in hundreds of patients who have seen incredible improvements in the appearance of their scars.  
Skinuva scar cream has been extensively clinically studied and published in various peer-reviewed medical journals including Aesthetic Surgery Journal, Journal of Drugs in Dermatology and now in Scars, Burns, & Healing. A double-blind, randomized, multi-center clinical trial  was published in the Aesthetic Surgery Journal in February, 2019 were Skinuva was shown to outperform silicone cream nearly 2 fold when it came the appearance of the scars in various clinical parameters, including vascularity, pigmentation, pliability, and thickness.
Some of the highlights in Skinuva's performance are:  
Softens and flattens the appearance of scars
Reduces the appearance of redness and discoloration
Relieves itch and discomfort associated with dryness
Sunscreen may be worn over
Gentle for all skin types
No dyes, oils or parabens
No animal testing
Skinuva is currently available to doctors and consumers. To place an order, please visit http://www.skinuva.com to learn more.