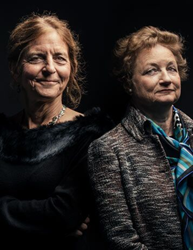 "No matter who we picked, it was going to be a great winner. They are all winners. But even more, we are all winners," said Andy North, president of the Sanford International Board.
SIOUX FALLS, S.D. (PRWEB) December 05, 2018
Two women with a vision to make the blind see were the winners of the inaugural $1 million Sanford Lorraine Cross Award.
Jean Bennett, M.D., Ph.D., and Katherine A. High, M.D., whose work with the RPE65 mutation has reversed an inherited form of blindness, accepted the award on Dec. 4 at Sanford Health, headquartered in Sioux Falls, South Dakota.
"I want to thank the Sanford Health system for rewarding innovation," said High. "There were many days we were discouraged, so it's so wonderful for an award to be given for people who made it across the finish line."
Bennett expressed her gratitude and said that the patients are the real pioneers.
Four finalists competed for the prize, intended to reward contributions to medicine, science and innovation. The women were chosen in an 8-1 vote of the Sanford International Board.
"No matter who we picked, it was going to be a great winner. They are all winners. But even more, we are all winners," said Andy North, president of the Sanford International Board. The board heard from the candidates in a private presentation on Tuesday morning, with the winner announced at a ceremony that evening.
Gene therapy quickly stood out as the field of candidates was narrowed, said David Pearce, Ph.D., president of research at Sanford Health, who noted that these four finalists helped lay the groundwork for much of the innovative work that is being explored now.
"We want to make a difference. It's a culture that delivers on the idea that if you make a promise here, that's a promise kept," said Kelby Krabbenhoft, president and CEO of Sanford Health, during the award ceremony. "Let's start curing things. Let's make a difference. The world will be better because of you."
Bennett and High pioneered the gene therapy for the RPE65 mutation, took it to clinical trials and then received the first FDA approval of a gene therapy for a genetic disease. High also co-founded Spark Therapeutics, a fully integrated, commercial gene therapy company working to accelerate the timeline for bringing new gene therapies to market. Bennett is a professor of ophthalmology at the University of Pennsylvania and a scientific co-founder of Spark Therapeutics, and High is president and head of research and development at Spark Therapeutics.
The other finalists were:

Brian Kaspar, Ph.D., whose lab discovered a gene replacement therapy approach that seeks to change the course of spinal muscular atrophy (SMA) by addressing its genetic cause. SMA is a devastating disease that robs babies of basic muscle functions, like breathing and swallowing, and in its most severe form (Type 1), usually leads to death by age 2. An initial clinical trial using the AAV9 vector to treat SMA Type 1 demonstrated a dramatic survival benefit and rapid improvement in motor milestones. Kaspar is the scientific founder and chief scientific officer of AveXis, a gene therapy company that was acquired by Novartis in 2018.
James M. Wilson, M.D., Ph.D., whose work paved the way for many groups to safely move promising gene therapies for inherited and acquired diseases through the translational pipeline internationally. He is the director of the Gene Therapy Program, the Rose H. Weiss Professor and Director of the Orphan Disease Center, and a professor of Medicine and Pediatrics in the Perelman School of Medicine at the University of Pennsylvania. In 2008, Wilson and the University of Pennsylvania cofounded REGENXBIO, Inc., a clinical-stage biotech company designing gene therapy products.
Candidates for the award were filtered through nominations from the public and a computer algorithm that sifted through medical publications in search of great discoveries. An interdisciplinary scientific advisory board identified top areas of innovation and the candidates were narrowed down to the top four.
The award is named after the Lorraine Cross, a symbol recognized around the world synonymous for those who take action for their passions. In recent history, Sanford Health has used it to symbolize innovation in health care.
About Sanford Health
Sanford Health is one of the largest health care systems in the nation with 44 hospitals and nearly 1,400 physicians in nine states and nine countries. Headquartered in Sioux Falls, South Dakota, and serving the Upper Midwest, Sanford Health is dedicated to several initiatives, including global clinics, genomic medicine and specialized centers researching cures for type 1 diabetes, breast cancer and other diseases. Sanford Health has nearly 30,000 employees, making it the largest employer in the Dakotas. Nearly $1 billion in gifts from philanthropist Denny Sanford over the past decade have transformed how Sanford Health can improve the human condition. For information, visit http://www.sanfordhealth.org.