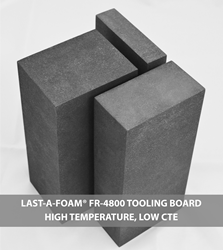 TACOMA, Wash. (PRWEB) September 12, 2019
General Plastics Manufacturing Co., a global supplier of high-performance polyurethane foam products and composite parts, will be at CAMX 2019, in Anaheim, CA, booth M36, to showcase its new LAST-A-FOAM® FR-4800 tooling board as well as LAST-A-FOAM® RF-2200 dielectric foam. The FR-4800 is a thermally-stable tooling board that is a new addition to General Plastics' range of tooling boards. It offers engineers and designers an exceptional material that withstands high processing temperatures and provides a fast and economical tooling option for producing high-tolerance parts, proofs-of-concept, demo models and one-off builds.
In addition to the new tooling board, General Plastics will also feature various high-performance polyurethane foam products, including LAST-A-FOAM® RF-2200 dielectric foam. RF-2200 fulfills a variety of applications involving transmission and receipt of wireless electronic signals.
HIGH-TEMPERATURE, LOW CTE TOOLING BOARD
LAST-A-FOAM®FR-4800 tooling board is known as a dimensionally stable and non-abrasive material that machines well. It withstands peak temperatures up to 480°F (249°C) and continuous use temperatures up to 400°F (204°C). Unlike other plastics on the market, it allows its users to reliably produce high-tolerance parts due to its low and predictable CTE. It can be used with high-temperature resin systems (vinyl esters, epoxies, and BMIs), in high-pressure autoclaves and vacuum-forming.
DIELECTRIC POLYURETHANE FOAM
General Plastics will also feature a range of low-density dielectric foam, namely LAST-A-FOAM® RF-2200. This material is the latest among its line of dielectric polyurethane foam for applications such as radomes, electrical isolators, spacers in material and antenna constructions and electronic packaging insulation. It is a closed-cell polyurethane foam that provides an RF-transparent, low-loss protective layer for applications where electrical insulative materials are needed. It is offered in standard densities of 3, 4, and 6 pounds per cubic foot, but other densities can be provided to meet the specific dielectric constant and loss tangent the application requires.
MOLDED PARTS AND PRODUCTION SERVICES
The company's high-capacity productions facilities enable it to scale production from small runs to specialty parts to ongoing, high-volume parts programs for OEMs and Tier 1 and Tier 2 parts programs. Its one-stop-shop services extend from part and tool design to 5-axis CNC machining, manufacture of mold tooling, molding, assembly and production of parts through all phases of delivery. Parts are molded and fabricated to customers' specifications using rigid, flexible and semi-flexible LAST-A-FOAM® materials.
About General Plastics Manufacturing Company
Tacoma, Washington-based General Plastics Manufacturing Company has been a leading innovator in the plastics industry for over 75 years. The company develops and manufactures rigid and flexible polyurethane foam products, which include its signature LAST-A-FOAM® brand series and build-to-print composite parts.
Directly or through its network of distributors, General Plastics serves the aerospace and defense, nuclear transportation packaging, composite core, prototype and modeling, construction, dimensional signage, telecommunications, marine, and subsea industries. General Plastics is certified to ISO 9001:2015/AS9100D and meets the rigorous demands of numerous leading quality systems, which include N7QA-1, Mil-I-45208A, and Boeing Company D6-82479. Please visit http://www.generalplastics.com.