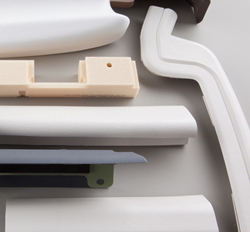 TACOMA, Wash. (PRWEB) October 15, 2019
General Plastics Manufacturing Company, manufacturer of aerospace-grade rigid foam core materials and build-to-print polyurethane foam products will be at the NBAA Business Aviation Convention & Exhibition on October 22 – 24, 2019 in Las Vegas, NV, Booth #C11434.
AEROSPACE-GRADE CORE MATERIALS
General Plastics manufactures rigid foam board materials to demanding physical property and flammability requirements for interior aerospace parts. LAST-A-FOAM® FR-3800 FST complies with various fire safety regulations, such as Federal Aviation Administration's (FAA) flame and smoke regulations, aircraft manufacturer toxicity requirements, the Ohio State University (OSU) 65/65 heat release requirements, as well as the European Nation's REACH regulation. It is a halogen-free polyurethane foam core which is an ideal alternative to thermoplastics foams and phenolic impregnated aramid honeycomb. Common applications for business jet interiors include core material for first class seating pods, cabin walls and ceilings, service-class dividers, seat backs, and tray tables.
Other LAST-A-FOAM® core materials include flame-retardant rigid foam core that exhibits high strength-to-weight ratio and is resistant to water absorption, most chemicals and solvents. RF-2200 in particular, is a low-density dielectric polyurethane foam ideal for applications where an RF-transparent, low-loss material is required.
CUSTOM-MOLDED PARTS
General Plastics' flexible built-to-print molded parts have been part of the aviation industry for over 45 years. The company's high-capacity production facility enables it to scale production from small runs to specialty parts to ongoing, high-volume parts programs for OEMs and Tier 1 and Tier 2 parts programs. Common applications include overhead panels, glare shields, gap seals, trim pieces and seat pads. The molded parts are manufactured based on customer specifications and are made with flame-retardant, self-skinning flexible polyurethane foam material that meets FAR 25.853 standards.
About General Plastics Manufacturing Company
Tacoma, Washington-based General Plastics Manufacturing Company has been a leading innovator in the plastics industry for over 75 years. The company develops and manufactures rigid and flexible polyurethane foam products, which include its signature LAST-A-FOAM® brand series and build-to-print composite parts.
Directly or through its network of distributors, General Plastics serves the aerospace and defense, nuclear transportation packaging, composite core, prototype and modeling, construction, dimensional signage, telecommunications, marine, and subsea industries. General Plastics is certified to ISO 9001:2015/AS9100D and meets the rigorous demands of numerous leading quality systems, which include N7QA-1, Mil-I-45208A, and Boeing Company D6-82479. Please visit http://www.generalplastics.com.