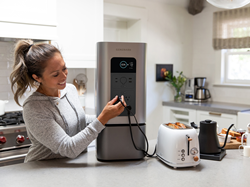 "With the HomePower 2, we set out to create the most reliable, durable and aesthetically-pleasing emergency power solution to our changing world. Every decision was made with intentional consciousness and consideration for the environment, and the user." - Anson Liang, Founder and CEO of Generark
SAN MATEO, CALIF. (PRWEB) May 19, 2021
Generark, the makers of the most reliable emergency power supply products for the home, announced a crowdfunding campaign on Kickstarter for the launch of its high-tech, portable generator, the HomePower 2. The HomePower 2 is the first emergency backup power solution designed to fit seamlessly into today's modern home—and serves as an affordable solution to keep consumers protected during any power outage for up to seven days. The HomePower 2 is available for pre-order on Kickstarter at exclusive pricing and will ship August 2021.
Generark's HomePower 2 offers an easy source of electricity that enables households to keep essential home appliances and devices running during any emergency situation. Created to fit effortlessly into homes, while leaving a smaller carbon footprint, the HomePower 2 features a larger wattage, an ultra-fast recharge and an elevated, more compact design than Generark's flagship product, the HomePower ONE. The sleek and simply-designed generator requires no installation, and is available in two different power capacities: 1566Wh (Starter) and 2060 Wh (Plus).
"When you are in an emergency situation, having a backup power source is important. But having a portable backup power source that can recharge quickly and provide continuous power is critical," said CEO Anson Liang, who founded Generark in 2019 after experiencing first-hand the detrimental effects of California's wildfires. "With the HomePower 2, we set out to create the most reliable, durable and aesthetically-pleasing emergency power solution to our changing world. Every decision was made with intentional consciousness and consideration for the environment, and the user."
The HomePower 2 can be charged from a variety of sources, including Generark's new SolarPower 2 portable solar panels. The all-weather and water-proof panels are launching on Kickstarter alongside the generator. The SolarPower 2 panels—which rank 50 percent higher in efficiency than traditional solar panels—are lightweight, foldable and offer a 30-second setup. In addition to harnessing the sun's energy, the HomePower 2 can also be recharged by an AC or car outlet. Electricity can be stored in the unit for at least one year.
Other features of the HomePower 2 include:
High Power:

Able to power 99 percent of essential devices—home appliances, medical devices, tools, and more
Plus: 2060Wh of capacity, 2200W of continuous power and 4400W of surge power at 110V/60Hz
Starter: 1566Wh of capacity, 1800W of continuous power and 3600W of surge power at 110V/60Hz
Ultra-Fast Recharge:

Plus: By wall outlet: 2.5 hours; by solar panels (800W): 3-4 hours
Starter: By wall outlet: 2 hours; by solar panels (400W): 4-5 hours
Long-Lasting Power:

A single charge provides up to seven days of power to your essential devices.
Electricity can be stored in the unit for at least one year.
Enhanced Design:

A sleek and compact design that fits every home, the generator is ergonomically designed to be easy to carry, and comes with a removable Magic Wheel Cart for simple transport.
High-Efficiency Solar Energy:

Each SolarPower 2 panel consists of 64 Monocrystalline solar cells, offering 50% higher solar power conversion efficiency compared to traditional solar panels.
Unmatched Reliability:

Every Generark unit undergoes 52 reliability and safety tests, and is covered by a 5 year warranty.
The Generark HomePower 2 is available for pre-order at exclusive Kickstarter pricing until July 14, 2021. After July 14, it will be available for pre-order on http://www.generark.com. To pledge, go to https://www.kickstarter.com/projects/generark/reliable-solar-generator-designed-for-the-modern-home
About Generark
Generark, the makers of the most reliable, portable and sustainable emergency power supply products, is dedicated to keeping your life powered through any emergency situation. Founded in 2019 after the devastating California wildfires left thousands without power, Generark's high-tech power sources provide peace of mind that your family's needs are taken care of, well before disaster strikes. From the HomePower ONE to its newest innovation, the HomePower 2, Generark offers an affordable backup power solution for every household in the U.S.—so you can stay prepared, protected and plugged-in. Learn more about Generark and its industry-leading, 5-year limited warranty at http://www.generark.com, and follow the brand on Facebook, Instagram and Twitter.