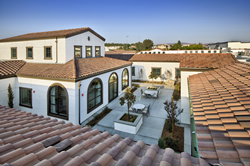 We are honored to have the opportunity to welcome memory care patients into our facility and help them feel at home.
TREMECULA, Calif. (PRWEB) October 13, 2020
Temecula Memory Care Center, a 64-bed memory care facility belonging to Generations Healthcare of Santa Ana, Calif., is now open and accepting residents. Located at 44320 Campanula Way in Temecula, the facility serves patients with Alzheimer's, dementia and other mental health diagnoses. As part of the 80,000-square-foot Temecula Healthcare Center campus, Temecula Memory Care Center offers patients unique access to all of the services of a skilled nursing facility in addition to memory care services.
The staff at Temecula Memory Care Center is committed to providing a secure environment in which residents can enjoy a fulfilling life and participate in activities that help delay cognitive decline. Activities and social programs are designed to improve self-sufficiency, self-confidence and cognition, intending to help those with dementia maintain their independence for a longer period of time. Other services include the following:

Close monitoring to ensure patient safety
24-hour nursing care
Assistance with activities of daily living (e.g., dressing, bathing, grooming, transfers)
Assistance with meals
Diabetic management
Giving of medications and treatments
Individualized exercise programs incorporating physical, occupational and speech therapy, using modern equipment with evidence-based practice in order to restore function and maximize independence
The level of services an individual patient needs can vary greatly depending on each individual's health and circumstances. The facility takes a personal approach to memory care and customizes programs to engage each resident in memory care activities, with the goal of ensuring an uplifting experience for all.
"The interest list for new residents with a desire to move into this beautiful, newly constructed facility is filling up quickly," said Jim Geddie, administrator of Temecula Memory Care Center. "I am proud of our incredible team of professionals and the proven outcomes that we are able to offer our residents."
In addition to the services the facility offers, the following amenities and features are also available:

Palm trees on the grounds
Interiors designed in the style of a luxury hotel
Option of meals made by a private chef
Food court–style dining
"To watch this facility take shape and finally come to this point has been an incredible experience," Geddie said. "We are honored to have the opportunity to welcome memory care patients into our facility and help them feel at home."
Temecula Memory Care Center is now accepting patients. For more information, call the main line at (866) 345-4636 or the facility cell at (714) 873-5203.
About Generations Healthcare
Generations Healthcare began operations in January 1998 with a single, 89-bed skilled nursing facility. Since that time, Generations has grown to 30 facilities comprising over 3,200 beds. Generations Healthcare was founded upon the belief that caring for the sick, the elderly and the infirm is a special and sacred stewardship. Guided by the values of kindness, competence and compassion, Generations operates these skilled nursing facilities throughout California, along with one newly built facility in Henderson, Nevada. Since its inception, Generations has established an excellent reputation in the communities served by its facilities because of its focus on quality, service and regard for the changes facing older adults in today's world. For more information about Generations Healthcare, visit ​http://www.lifegen.net​.