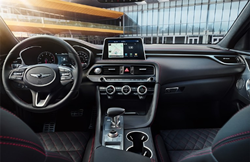 STOCKTON, Calif. (PRWEB) April 05, 2021
Genesis of Stockton is offering an all-access sales event on the brand-new Genesis G70 luxury sedan that has hit the lot of Genesis dealerships across the country. Drivers who have been looking for a G70, and looking to get a great deal on it, now is the time to act.
Drivers who want to take advantage of this all-access sales event can do so thanks to their local Genesis of Stockton dealership. A few of the different promotional opportunities that are tied into this event include $0 due at signing of this vehicle and a $0 first month payment on the Genesis G70 as well. On top of that, there is also a $0 security deposit for the Genesis G70. Interested drivers are encouraged to act fast while Genesis of Stockton still has the G70 sedan in their inventory.
If interested in leasing the 2021 Genesis G70, drivers can do so for $409 a month for a 36-month lease term. This $409 offer is only valid on a 10,000 mile per year lease basis, anything over that on a yearly basis will result in the lease price going up.
Drivers who are interested in being involved with the event of this sale are encouraged to find more information at Genesis of Stockton's website which is located here https://www.genesisofstockton.com/?utm_source=prweb&utm_medium=press_release&utm_campaign=2021april5 or by contacting them directly via phone or email. More discounts and offers can be found on their website as well that covers a range of different inventory and service specials.