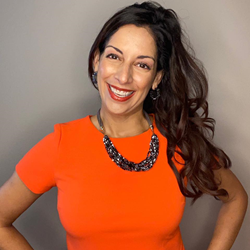 Genesis Research is a company with innovation and collaboration at its core. I am delighted to have the opportunity to help guide and inspire the company to reach even greater heights."
HOBOKEN, N.J. (PRWEB) May 10, 2021
Genesis Research, a global value demonstration company, has announced the appointment of Jennifer Lopez- Reed to its Board of Directors, further deepening the Board's organizational expertise.
Lopez' appointment to the Board follows Genesis Research's acquisitions of UK-based market access specialist SIRIUS Market Access and the leading machine learning platform EVID AI.
Originally from Puerto Rico, Lopez moved to the US to complete her Master's Degree in Chemical Engineering before enjoying a long, successful career with Eli Lilly and Company, first in manufacturing and quality and then on the business side. Her most recent roles include Chief Operating Officer & Sr. Advisor (Connected Care and Insulins Product Development) and her current position as Lilly's Sr. Director Global Recruiting and Talent Acquisition.
With over 18 years' experience in the pharmaceutical industry, Lopez has led several projects as a Six Sigma Black Belt (employing quantitative analysis to improve business functionality), managed two sites including Lilly's first acquisition, and managed major company transformations. A popular speaker at national events, Jennie is also an executive board member in Lilly's Organization of Latinx, focusing on developing Latinx talent.
"We are delighted to welcome Jennie to the Board," said Steve Arikian, MD, Co-founder & Chairman of the Board. "As an independent director, we will leverage her impressive experience in change and transformation, learning agility, talent acquisition, product development, business strategy, and the pharma industry to help us build further value in the company and inform our continuing commitment to diversity. With such depth in operational experience, Jennie will provide invaluable direction in setting out strategic objectives in this rapidly evolving and competitive market."
"I can't wait to get started," said Lopez, whose leadership hallmark is to encourage individuals to bring their uniqueness to everything they do. "Genesis' culture of one team, focused passion and authenticity is very much aligned with my own approach. It's a company with innovation and collaboration at its core and I am delighted to have the opportunity to help guide and inspire it to reach even greater heights."
About Genesis Research:
Genesis Research is an international value demonstration company that supports the life sciences industry, powered by its core competency of Real World Evidence solutions. As a leader in evidence strategy, development and communication, the company also supports life sciences clients with meta research, economic modelling, data analytics, scientific writings, outcomes simulation, strategic and tactical HEOR, market access strategy and evidence life cycle management. Genesis Research has offices in Hoboken, USA and Newcastle, UK.
For more information, please visit http://www.genesisrg.com.
About Rallyday Partners:
Rallyday Partners, headquartered in Denver, Colorado, is a private equity firm investing growth capital in founder-led companies in the healthcare, education, and IT services industries. Genesis Research is a portfolio company of Rallyday Partners.
For more information, please visit: http://www.rallydaypartners.com.