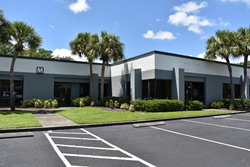 This acquisition provides us the opportunity to acquire a critical mass of value-add, high quality, light-industrial assets with current distributable cash flow in a strong market.
FORT LAUDERDALE, Fla. (PRWEB) January 09, 2020
Genet Property Group (GPG) and Biscayne Atlantic, in a joint venture, acquire Tri-County Business Park in Tampa, Florida. The property consists of 492,235 square feet of single story office and light industrial space and encompasses over 51 acres of land within Tampa's premier Westside industrial submarket.
Tri-County Business Park is comprised of fourteen single story buildings, currently leased at 78%, to a wide variety of industry types providing diversified risk and the ability to create value through the lease-up of the vacant space. The strategic location places Tri-County Business Park at the convergence of Hillsborough, Pinellas and Pasco counties. This central location appeals to businesses surrounding the northern Tri-County area with its strong demographics and affluent residential communities providing access to business decision makers as well as a diverse, well-educated labor pool. The property will be managed by Ciminelli Real Estate Services of Florida and leased by Colliers International, which is the existing leasing team at the property.
"We are excited to enter the Tampa market with our joint venture partner on this transaction, Genet Property Group, who already has a significant presence in the market owning assets in both Tampa and Lakeland," said David Garfinkle, Managing Member of Biscayne Atlantic. "This acquisition provides us the opportunity to acquire a critical mass of value-add, high quality, light-industrial assets with current distributable cash flow in a strong market."
Genet Property Group and Biscayne Atlantic purchased the property for $36,917,625 or $75 per foot and closed on the property in 40 days from contract execution. The purchase and sale agreement was executed on November 20, 2019, and the acquisition closed on December 30, 2019, right before the end of the year. "We are extremely excited about the addition of Tri-County Business Park to our growing Tampa portfolio and appreciate the efforts of all the parties involved in successfully executing this transaction within a tight time frame," said Ben Genet, President of Genet Property Group. "Tampa is demonstrating strong economic fundamentals which we believe will directly result in higher occupancy and a tighter leasing market. We look forward to implementing our business plan of focused capital improvements and intensive on site management to continue to improve the park for the benefit of our current and future tenants."
Joe Rossi, executive managing director with the Rossi-Campton team at Colliers International, introduced GPG and Biscayne Atlantic to the off-market opportunity. "While working with the buyer on a similar property, our team identified them as the ideal candidate for Tri-County Business Park. With a year-end closing highly desired by the seller, the buyer was able to step in and execute flawlessly," said Rossi.
The joint venture obtained a non-recourse loan at a fixed rate with a seven year term from BankUnited to fund the acquisition and future capital expenses and tenant improvements. Cushman & Wakefield's Structured Finance Group led by Senior Director Jason Hochman represented the joint-venture in securing the financing. "This was a quick and seamless execution by all parties, especially the buyer, who met the seller's expectations and closed within 40 days from execution of the purchase contract," said Hochman. "Tri-County Business Park has an unbeatable central location within Tampa Bay and is well positioned for success under its new ownership."
About Genet Property Group:
Genet Property Group (GPG) is a Florida based owner/operator of office, industrial, flex and retail properties. With nearly 2.5 million square feet of assets under management, GPG is led by Ben Genet and is a vertically-integrated platform with an experienced team of leasing professionals, accounting staff, property managers and skilled maintenance personnel. The organization's hands on management approach and direct owner involvement has resulted in scores of successful investments throughout Florida during GPG's 31-year history. GPG's properties are located throughout Miami, Ft Lauderdale, Palm Beach, Tampa and Lakeland, Florida. GPG continues to own and operate 29 of the 48 properties purchased over the past 31 years and is sourcing additional investments for its growing portfolio. To learn more visit http://www.genetgroup.com.
About Biscayne Atlantic:
Biscayne Atlantic is an investment and operating platform managed by highly skilled real estate professionals and entrepreneurs with a unique ability to originate, structure, underwrite, close, asset manage and reposition under-performing and value-add real estate. Biscayne Atlantic's principals have over 45 years of experience in the real estate industry and have collectively owned and operated commercial and multi-family properties in 16 states and have executed on transactions with a value of over $1.5B. Since 2012, Biscayne Atlantic has purchased over 2,500 multi-family apartment units and 1,800,000 square feet of commercial office/flex properties throughout the Southeastern US. Biscayne Atlantic's core principles are founded on precise investment selection, thorough due diligence, superior deal structuring and execution, strong financial management and a proactive "hands-on" asset management approach. To learn more visit http://www.biscayneatlantic.com.